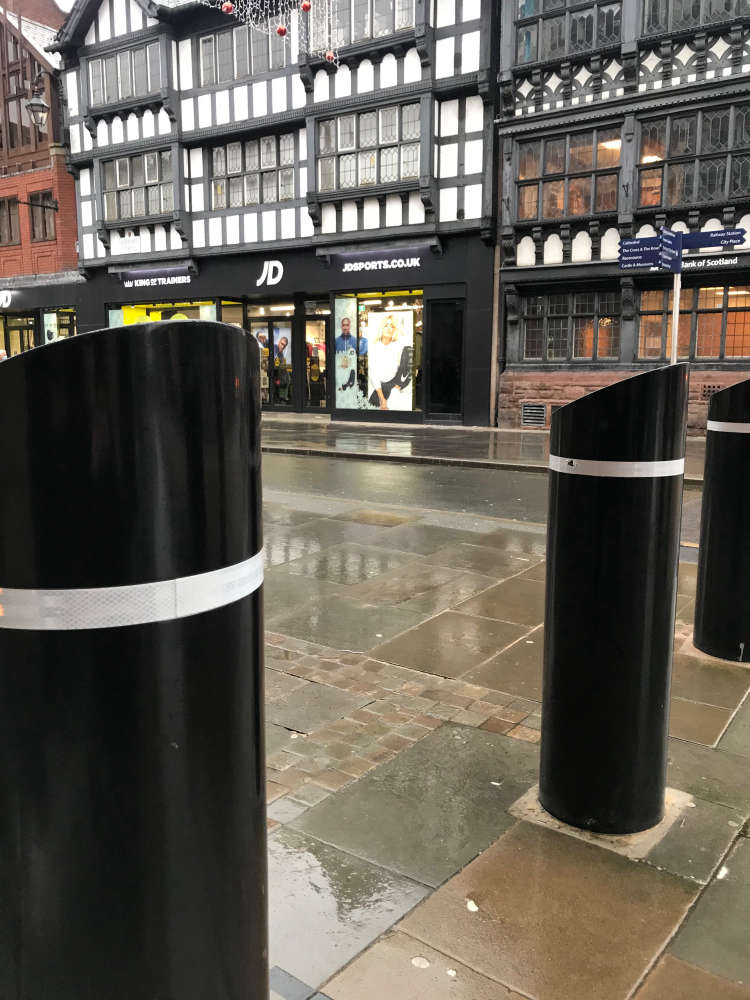 Blue Badge holders and disabled visitors who wish to drive into Chester this month are today being advised of changes to city centre parking arrangements during December.
Until 22 December, the bollards at the Town Hall Kiosk, St. John's Street, Bridge Street, Watergate Street will be raised in the 'up' position, seven days a week, from 10.30am to 10pm.
Only a limited number of vehicles are allowed access to the city centre between these hours. Blue Badge holders will not have access for the duration of this period, as is normally the case with the traffic regulation order.
This is being implemented under an anti-terrorism traffic regulation order to improve security for the crowds who are visiting the Christmas market and shopping in the city.
Councillor Val Armstrong, Cabinet Member for Adult Social Care and Public Health said: "There is no specific threat to Chester but as a precaution, to protect our residents and visitors Christmas shopping, we decided to improve city centre security by prolonging the time when the bollards are raised.
"Blue Badge holders are affected by this decision as they are now denied access during these daytime hours through December.
"Since last week, we have been working with Dial West Cheshire to identify solutions to the issue so that Blue Badge holders and disabled visitors can continue to visit Chester.
"We encourage Blue Badge holders to make note of the solutions we are presenting today and continue to visit Chester during this Christmas period."
The Council and its partner organisation Dial West Cheshire are announcing the following alternative arrangements to support Blue Badge holders and disabled visitors affected by this announcement.
Dial West Cheshire Shopmobility

The opening hours of the Shopmobility service will be extended on a Thursday from 9.30am until 7.30pm (rather than the current closing time of 4.30pm). Users are always encouraged to book in advance but bookings on the day will still be accepted. The Thursday offer will be available on 2nd, 9th, 16th, and 23rd December and will also align with the city's Christmas parade programme. The Shopmobility in Chester can be contacted by calling - Chester Shopmobility on 01244 312 626.

Blue Badge Microchip

Cheshire West and Chester registered Blue Badge holders can register to have a micro-chip applied to their badge for four hours free access to any Council pay on foot car parks. Details can be found at the following link: Car parks in Chester (cheshirewestandchester.gov.uk).

To apply for access via our ANPR (Automated Number Plate Recognition) system please email our parking services team at parking@cheshirewestandchester.gov.uk.

Disabled Parking Spaces

There are car parks dedicated to Blue Badge holders at Frodsham Street, Chester, CH1 3JJ and Hamilton Place, Chester, CH1 2BG and there is an allowance for Blue Badge holders to park on yellow lines for up to three hours.

Disabled Drop Off
Blue Badge vehicles will be permitted access to drop off at the night-time taxi rank and adjacent bays on Northgate Street opposite the new Northgate development (old library entrance). Traffic management operatives will be instructed to permit vehicles through the coned off entrance to Northgate Street at Hunter Street to drop off a passenger(s) in a safe city centre location. Please note that a valid Blue Badge must be presented to be permitted to drop off.
Pictured - Bollards in Chester city centre.