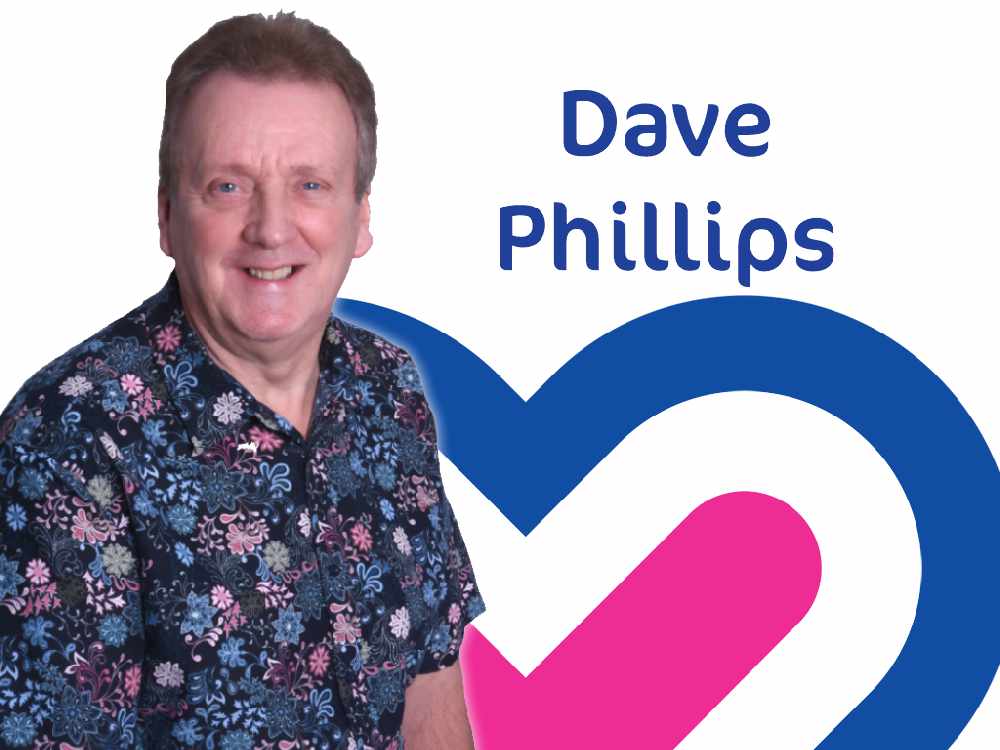 All About Dave
Dave Phillips has been broadcasting on the wireless for over forty years! He started, like so many of his radio colleagues, working on hospital radio.
Dave presented a Saturday Morning Show on the radio station serving Clatterbridge Hospital, on the Wirral. He moved into commercial radio in the nineties, working for stations in Liverpool, Wrexham, Birkenhead, Colwyn Bay, Bangor, Lancaster and Prescot before making the move to Chester's Dee 106.3, in 2004.
For much of this time, he also managed to hold down a full-time job as a secondary school Maths teacher. As you can imagine, he didn't sleep much during this period!
Dave presents the Sunday Mid-Morning Show, on Dee, between eight and midday.
One of the most popular features on the programme is the weekly pop quiz: "The Sixty-Second Challenge" where two listeners go head to head to see who has the greater knowledge of popular music over the last fifty years.
The current Challenge Champion is Mike Devitt, from Buckley, who managed to answer 12 questions correctly in his allotted time! Each week, both contestants win a family pass to the Deeside Ice Rink, in Queensferry, and the winner also receives a pair of tickets for the Vue Cinema, at Cheshire Oaks.
You can ring to register to play, by calling Chester 39-1063, after ten on Sunday morning.
Dave also enjoys testing his listeners' lateral thinking skills with a weekly brainteaser: "The Sunday Survey Question". Each week's question is posted on the Dee Facebook page, with clues to help solve the mystery. Here's one of the questions from a recent edition of the show:
The most expensive car ever made was put up for sale. Although many people wanted to own it and could afford to buy it, nobody will ever do so. Why? (You'll find the answer at the bottom of the page.)
Dave is an avid record collector and his personal collection includes over two thousand CD's, LP's (remember them!), 7″ singles and cassettes. Each week you get to hear a specially-selected track, from this collection, in "Dave's One From Home" on his show.
One of his most memorable broadcasting moments was one April Fool's Day, when he managed to convince listeners that his radio show was being broadcast simultaneously on Sky TV. The station was inundated with callers who had re-booted their Sky boxes but were still unable to receive the show in vision as well as sound.
Now that he's retired from the teaching profession, Dave can often be heard sitting-in for his colleagues at Dee or joining the Dee Team and Chester The Cat on outside broadcasts.
He also presents a weekly programme on Dee's sister-station, Dee On DAB, where he plays easy-listening classics from the fifties and sixties in the Dee Lounge. (That show can be heard every Monday evening, at ten, and is also available to listen-again, via the MixCloud app.)
When he can't find a microphone to talk into, Dave enjoys DIY, gardening, long walks in the country and eating out at local restaurants with family and close friends.
How to contact Dave
Text him on 6-0-300, putting the word Dee at the start of your text or leave a message on Dee's Facebook page.
Did you work out the answer to the Sunday Survey Question?:
The car was the moon buggy, used by astronauts to explore the moon. It was left there and, although NASA would like to sell it, no one can retrieve it! (Well done if you got that right!)