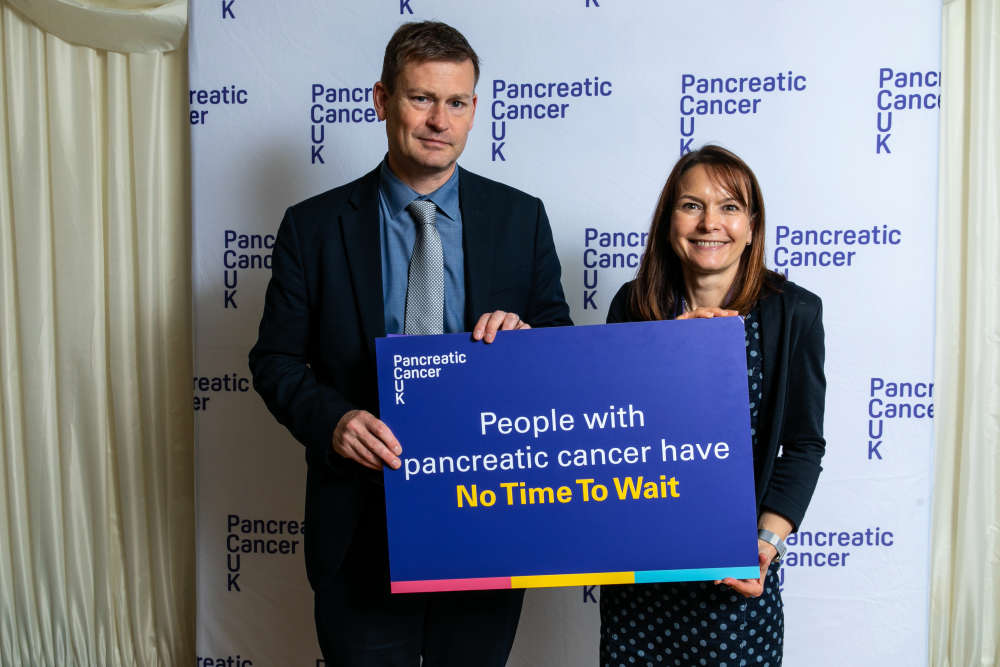 A local MP has pledged his support to a campaign to speed up treatment for cancer sufferers who fear any NHS delays could cost them their only chance of survival.
Justin Madders, MP for Ellesmere Port and Neston, attended an event in the Palace of Westminster where he backed the 'No Time to Wait' campaign launched by Pancreatic Cancer UK.
The charity is calling on the Government to support the health service with extra funding this winter and to produce a long-term plan in response to what it calls 'the pancreatic cancer emergency'.
More than 100 Parliamentarians who attended the campaign launch heard how almost 60 per cent of people with pancreatic cancer are being diagnosed in A&E or other emergency care and for most people it means it is too late for them to have lifesaving treatment. More than half of people die within three months of their diagnosis, making pancreatic cancer the quickest killing cancer.
Pancreatic Cancer UK fear is calling on the Government to publish funded cancer plans to deliver faster diagnosis and treatment for people with pancreatic cancer who have no time to wait. It is calling for everyone with the disease to receive a diagnosis within 21 days of their referral, to be offered fast access to treatment and care and to be given immediate access to support from a specialist cancer nurse.
Mr Madders said: "For people affected by pancreatic cancer the impact of the tremendous pressures on the NHS can be heart-breaking. It's imperative that the Government acts to stabilise the situation and protect vital cancer services this winter.
"Time is truly of the essence with this devastating disease. Yet, while we have seen significant improvements in the diagnosis, treatment and awareness of many cancers, progress on pancreatic cancer has been unacceptably slow.
"I want to see an ambitious long-term plan put in place to transform survival for this devastating disease and hope everyone in my Ellesmere Port and Neston constituency will join me in backing this campaign."
Diana Jupp, chief executive of Pancreatic Cancer UK said: "The pandemic, staff shortages and underfunding have all pushed the NHS to breaking point. Pancreatic cancer is the quickest killing cancer and any delays to diagnosis and treatment could cost people their chance of survival."
To sign the 'No Time to Wait' petition visit:
https://www.pancreaticcancer.org.uk/ntw
Pictured - Justin Madders MP with Anna Jewell, Pancreatic Cancer UK's director of support, research and influencing.