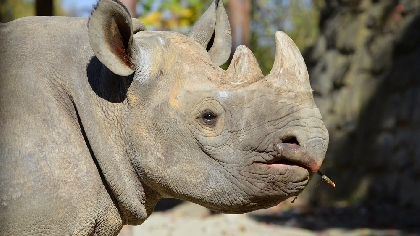 Five endangered Eastern black rhinos successfully translocated to Rwanda
The Eastern black rhino population in Rwanda's Akagera National Park has grown with the arrival of five new individuals from European zoos, as part of the largest ever translocation of rhinos from Europe to Africa.
The move is part of a major international collaboration overseen by conservationists at Chester Zoo.
Chester Zoo CEO, Dr Mark Pilgrim, who manages the population of Eastern black rhino across European zoos, said:
"This is a historic moment for eastern black rhino conservation. Black rhino populations have dropped by more than 95% in Africa over the last 100 years due to a global surge in illegal poaching for their horns. Just 12 years ago, they completely disappeared in Rwanda where they were declared extinct.
"To now be part of a successful reintroduction of eastern black rhinos back to Rwanda, with individuals from the healthy, thriving and genetically viable population in zoos in Europe, is a dream come true – and a huge boost to the future of this iconic species.
"This is a major moment for zoos and for wildlife conservation. The future of eastern black rhinos could depend on it."
The historic translocation was undertaken by the European Association of Zoos and Aquaria (EAZA), the Rwanda Development Board (RDB) and African Parks, which manages Akagera National Park in partnership with the RDB.
Two male and three female rhinos were released into bomas (temporary enclosures) in Akagera, with the aim of increasing the genetic diversity of the park's rhino population and aiding efforts to restore the critically endangered subspecies in Rwanda and the region