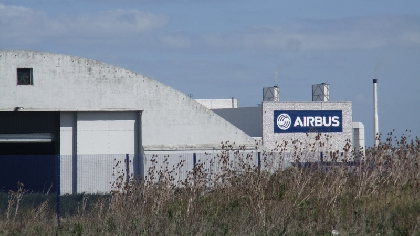 The Airbus factory at Broughton
Airbus has announced it could leave the UK if  it exits the EU single market and customs union without a transition agreement.
The aerospace giant, which employs thousands of people at its wing factory in Broughton said the warning was not part of "project fear", but a "dawning reality".
The company employs around 14,000 people at 25 different sites across the UK.
Those employed by suppliers would also be under threat if the firm follows through with its threat and leaves.
Airbus published what it calls its "Brexit risk assessment" yesterday saying if the UK left the EU next year without a deal - meaning it left both the single market and customs union immediately and without an agreed transition - it would "lead to severe disruption and interruption of UK production".
"This scenario would force Airbus to reconsider its investments in the UK, and its long-term footprint in the country," it added.
Airbus which manufactures wings for its A320, A330/A340, A350 and A380 passenger planes in the UK, went on to state that the current planned transition period, set to end in December 2020, was too short for it to make changes needed to its supply chain.
As a result of that, Airbus would "refrain from extending" its British supplier base; of which the firm said it currently has more than 4,000 suppliers in the country.
The chief operating officer of Airbus Commercial Aircraft, Tom Williams, said in "any scenario", Brexit had "severe negative consequences" for the British aerospace industry and Airbus in particular.
Without no deal, he said Airbus felt the impact on its UK operations could be "significant".
Mr Williams went on to say: "Put simply, a no-deal scenario directly threatens Airbus' future in the UK."
A spokesperson for 10 Downing Street insists trade negotiations for post Brexit are going well
The Alyn & Deeside MP Mark Tami, speaking outside the Broughton plant today said "businesses need reassurance".