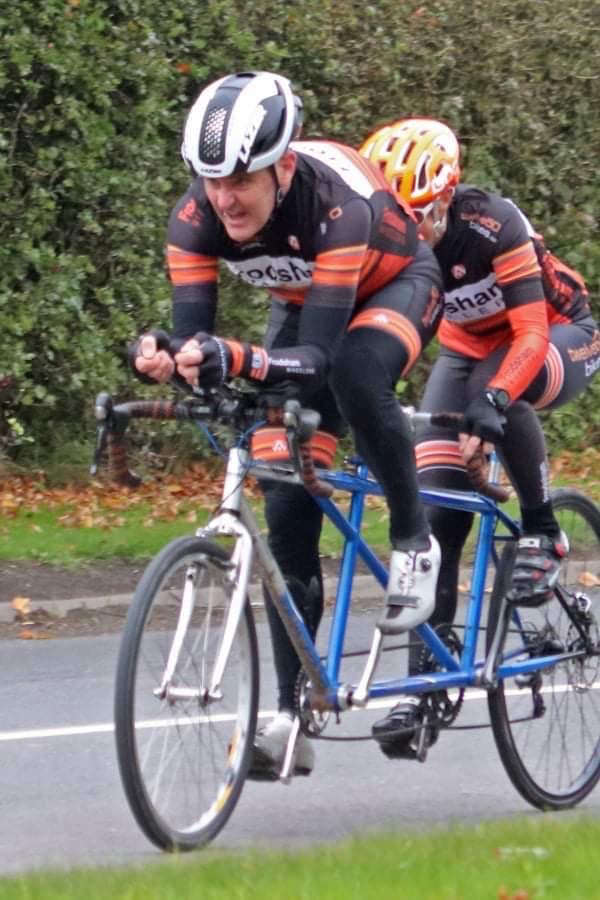 Retired school teacher Brigid Night and her friend Chris Hansen Jones are to ride a tandem bike non-stop for 24 hours through the Cheshire and Shropshire countryside on 23 July to fundraise for a cause close to Brigid's heart
Brigid, 57, and Chris, 53, from Frodsham in Cheshire, hope to raise more than £2,400 for the charity Muscular Dystrophy UK, which supports people living with muscle-wasting conditions.
Three of Brigid's nephews live with Becker muscular dystrophy - a rare genetic condition which causes muscles to weaken and waste over time, leading to increasing and often severe disability.
Liam and twins Aaron and Ronan, who now in their early 20s, were sporty when they were younger and the twins even dreamed of becoming sportsmen before their progressive symptoms forced them to give up this ambition.
Brigid is fundraising for Muscular Dystrophy UK as the charity has supported her nephews and the money will help fund research to find treatments - and ultimately a cure.
Brigid said: "My nephews all do their utmost to live their lives as fully as possible and not to be defined by their diagnosis. However, it's impossible for anyone without a muscular dystrophy condition to know what inner challenges those living with an unpredictable and potentially life-limiting condition have to face. It must be very difficult and frightening at times."
Brigid and Chris will tackle the ride as part of the National Cycling Time Trial event that circuits the open roads near Whitchurch and Shrewsbury. The friends met through Frodsham Wheelers cycling club.
"Our goal is to clock up more than 333 miles on our tandem bike. That's the equivalent of cycling nonstop from Chester to Land's End. We're hoping to achieve the second-best distance a tandem has achieved
She believes there is something quite magical about being on a tandem bike. "When people see you they tend to double take and it seems to make people smile."
"He calls me Nan and I call him Junior!" says Brigid. "It is great cycling as part of a team and much more fun than on a solo bike."
She's excited to be taking on the challenge: "This is going to be the hardest cycle we've ever done - especially with the extra challenge of getting through the night - but we are really excited to be doing it. You don't know what you are capable of until you try," said Brigid.
This is Brigid's second cycling challenge in recent years – she celebrated her partner surviving 5 years of a 'terminal' cancer diagnosis by cycling up Mount Ventoux in southern France to raise money for her local hospice.
Brigid's nephews are entertained by the tales of the tandem and think its "cool" to be doing a 24-hour event. "I'm mad about cycling so they were not surprised when I told them. They are pleased we are doing it to raise money for research into cures for muscular dystrophy."
Sponsor Brigid and Chris today:
https://www.justgiving.com/fundraising/brigid-night
"Their dad - who is my brother - was a full-time international sports coach in their childhood and this fostered a great love and enthusiasm for all sorts of sports," says Brigid.
"The twins, especially, imagined themselves competing at the top level in hockey and cycling before they learnt of the harsh reality governing their muscles. They have all had to stop playing the sports they love so much but they have worked hard to become actively involved with coaching and video analysis.
"They all studied hard in school and were able to progress to universities. Liam is now a primary school teacher; Aaron is in second year of Veterinary Medicine and Ronan is studying Dutch in Delft (Netherlands).
Brigid said the international conferences that Muscular Dystrophy UK organises are really informative and helpful to better understand the complex conditions. "They provided us with links and support. I'm particularly pleased that Muscular Dystrophy UK funds research projects."
Susanne Driffield, Regional Development Manager-North of England & East Midlands at
Muscular Dystrophy UK said: "Brigid and Chris are really pushing themselves with this challenge. It's great that they can channel their cycling passion into a fundraiser for our charity – the funds will help us fund further research into the conditions and also allow us to continue to support those people who need our help. It's really great to hear that Liam, Aaron and Ronan are living their lives as fully as possible despite the challenges of their Becker muscular dystrophy."
It was only last year that Brigid took her first tandem ride. "Last year I had a back injury which kept me off my bike for a few months. When I was able to get start cycling again, I found it difficult to get back into club activities and the opportunity came to have a go on a tandem."
Brigid admits she enjoys the teamwork element of tandem cycling with Chris, who is operations manager at an IT recycling business, Restore PLC.
"Not only is Chris, who is the President of the Frodsham Wheelers, a talented mechanic, but he also takes on most of the responsibility of being on the front so has to do all the steering and decisions of the gear changing."
Muscular Dystrophy UK is the charity for the 110,000 people living with muscle-wasting conditions in the UK. We bring together and support people affected by more than 60 rare and very rare progressive muscle-weakening and wasting conditions. We are facing the biggest threat in our 60 years with the loss of half our forecast fundraised income (£2.4m), just when our help is most critically needed by those that we serve.
Pictured - Bridget and Chris on their tandem.