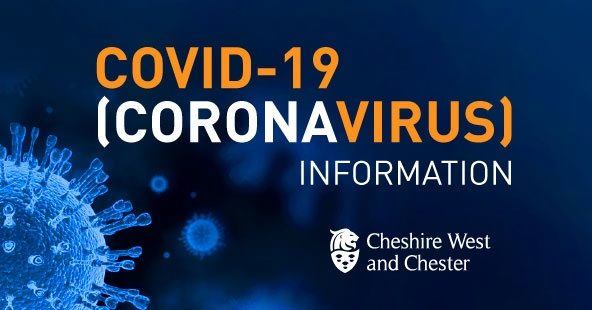 Following the announcement by the Government of a national lockdown, the Council and education providers across the borough have been working together to ensure children and young people are supported to continue with their education while restrictions are in place.
The current national guidance means that schools and sixth form colleges are only open for the children of critical workers, if they cannot be safely cared for at home, and vulnerable children. A detailed list of critical workers and vulnerable children that can be cared for by schools is available on: www.gov.uk/coronavirus/education-and-childcare.

Children who do not fall within these categories should remain at home with the appropriate care.

The new measures follow a rapid increase in the infection rates, alongside a new variant of the virus reported to be between 50 per cent and 70 per cent more transmissible than the previous strain. This means people are more likely to catch the virus and pass it on.
In Cheshire West and Chester, the borough has seen 1,586 new cases in the seven days up to 13 January, which is a rate of 462 per 100,000 people in the same period.

Schools and colleges across the borough have introduced remote learning so that all pupils are able to access online resources and continue their learning throughout the lockdown period.
The Government has committed to providing one million devices nationally to help children with their learning during the COVID-19 pandemic. Over the last year, schools and families across west Cheshire have received 3,073 laptops and 146 routers, where a family does not have access to the internet, to ensure that children can access the resources they need to continue to learn from home. Schools will be applying to the Department for Education's Get Help with Technology programme for further devices to support even more families during this lockdown.
Residents and businesses across west Cheshire have also kindly been offering to donate digital devices to support pupils with remote learning. More information about donating devices can be found on: www.cheshirewestandchester.gov.uk/schools-covid-info.
Councillor Bob Cernik, Cabinet Member for Children and Families, said: "Due to the increase in cases throughout the country the difficult decision has been made to only allow schools to remain open for vulnerable children and those children of critical workers until at least the February half term. I understand this will be an incredibly difficult time for many families trying to juggle work and childcare but the most effective way to tackle this new strain is for as many people as possible to stay at home. This will not only help reduce the spread of the virus; it will also save lives and protect the NHS.
"I'd like to thank all schools, colleges and early year settings for the commitment they have shown throughout the pandemic and for adapting their plans at very short notice. Teachers are working incredibly hard to teach both pupils in class and at home during this time so that every child is following the same curriculum. They are all dedicated to providing a safe and nurturing learning environment for children and young people across the borough and, as soon as it is safe to do so, will be there to welcome pupils back to the classroom."
The Council and schools are working closely with our partners who provide school meals to schools in the borough to make sure pupils who are not attending school and who are eligible for benefits related free school meals still have access to these during this period of closure. Schools will share details of how this will work to families who are eligible for free school meals.
Families can also find food support in their area by visiting the Welcome Network Website: www.welcomenet.co.uk/get-support.
The Live Well Website: www.livewell.cheshirewestandchester.gov.uk/Categories/4857 provides resources about supporting children and young people during the lockdown, including a section on mental health and wellbeing. Anyone struggling with their mental health can call the Cheshire West Mental Health Crisis Helpline (www.kindtoyourmind.org/support-near-me/) on: 0800 145 6485. This is open 24 hours a day, seven days a week for adults, children and young people.

Early year settings, such as nurseries, are able to remain open during the lockdown.