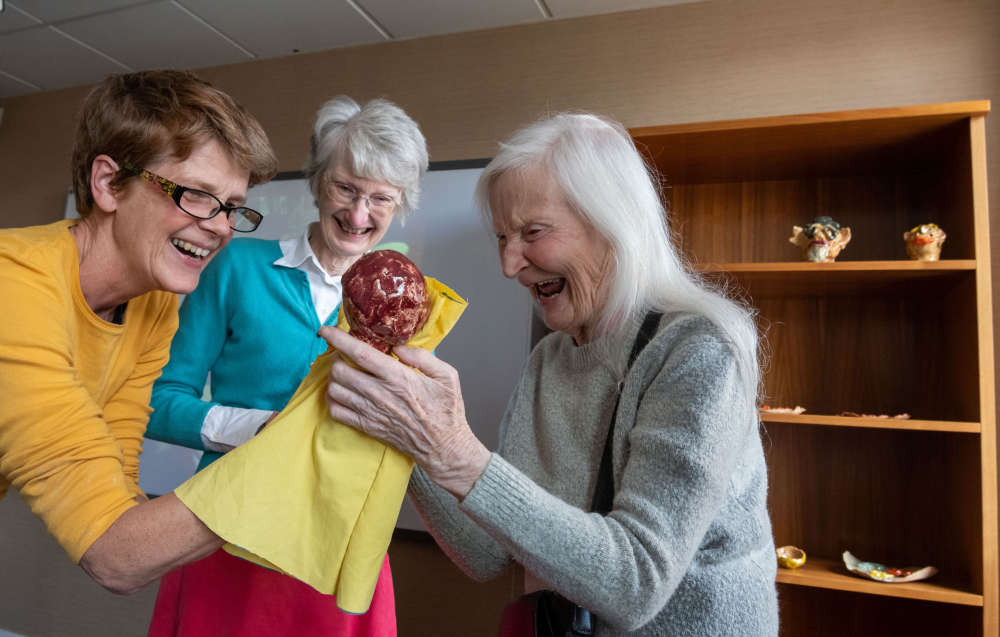 An Arts Activities Guide, designed especially for people living with dementia, has been launched.
It's part of a collaboration between leading dementia specialists, Belong Chester, and Bluecoat, Liverpool's contemporary arts centre, offering an inspiring collection of pursuits to enhance the wellbeing of those who work with it.
'Little Golden Moments' brings together an array of one-to-one and group exercises in music and sound, storytelling, movement and dance, and working with clay. All have been devised by some of the country's most acclaimed creatives commissioned by Bluecoat, and piloted by Belong for the ongoing research partnership between the organisations.
For the past four years, the relationship, entitled Where the Arts Belong, has explored the use of arts in care environments with the artists taking-up 'arts residencies' in Belong's care villages, leading workshops for residents in their respective disciplines. In response to lockdowns, a spin-off initiative, We Belong Together, supported Belong's independent living apartment tenants and those in the wider communities it serves, helping to tackle loneliness by providing a weekly focus at a time when interaction outside of support bubbles was limited to virtual means.
Now, all the activities have been packaged as Little Golden Moments, serving as an invaluable tool for loved ones, care providers and anyone supporting someone living with dementia. With the option to tailor tasks to participants' preferences and ability, the aim is to engage them in meaningful occupation, whilst inviting their input, such as favourite memories, personal interpretations or new ideas. The result is increased wellbeing, connection, and a sense of purpose for those involved.
Caroline Baker, head of dementia and care quality at Belong commented: "When your loved ones or those in your care live with dementia, it can be difficult to keep them engaged with worthwhile activity. We're pleased that the Bluecoat's work with our customers to-date means we can offer this resource to carers everywhere. I'm sure many will recognise the small, special moments they have with those they care for and this will help to bring about more positive experiences."
Tabitha Moses, project facilitator at Bluecoat, added: "We hope Little Golden Moments will inspire creative engagement with people we love and support. Each activity has been tried and tested, both in-person and on a digital screen – all are dementia-friendly and Zoom-friendly. You don't need to have any arts experience, just a willingness to have a go!"
Printed copies of Little Golden Moments are available at the Bluecoat, School Lane, Liverpool, L1 3BX (while stocks last) or can be downloaded at the partnership's website:
Belong Limited is a charitable organisation, operating villages with a range of care, housing and support options for older people, as well as extensive amenities in the village centre. These include bistro, hair salon, specialist exercise studio and function rooms. People can choose to live independently in a Belong apartment or within a supported 24-hour care environment.
Belong specialises in supporting people with dementia, and 24-hour care is provided in extended family-sized households, with modern open plan layouts specially designed around the needs of people with dementia. All employees working in Belong villages are trained in dementia awareness, from domestic assistants through to bistro staff. The organisation is also a registered domiciliary provider and can support people in their own home, through its Belong at Home service.
There are eight Belong villages in Atherton, Chester, Crewe, Didsbury, Macclesfield, Newcastle-under-Lyme, Wigan and Warrington, with two more under construction in Birkdale and Wirral.
For more information, see
About Bluecoat
Bluecoat is Liverpool's centre for the contemporary arts, located in the heart of the city. We develop a diverse programme of exhibitions showing national and international artists, as well as home grown talent. We deliver performance, literature, and heritage events, and are committed to finding new ways to open the arts to everyone.
Pictured: (L-R) Artist, Brigitte Jurack, shares a creation with Veronica Davies and Pegeen O'Sullivan, as part of the Belong-Bluecoat dementia-arts partnership.