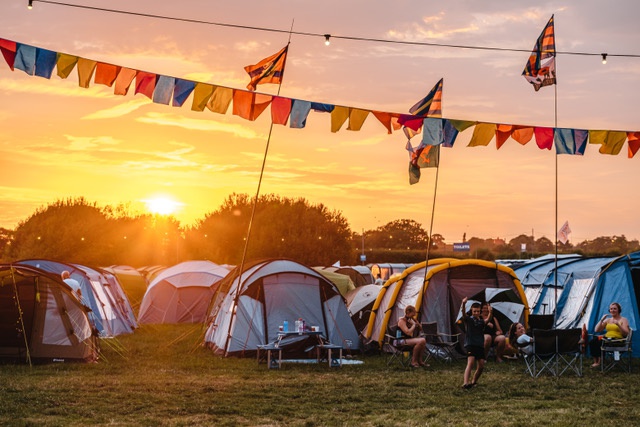 CarFest, the family festival created and hosted by Chris Evans is back for 2021 and has today announced its next release date for tickets to the unmissable summer events.
Next year, marks the 10th year of a specially designed Covid-compliant 'Camp' CarFest and with that comes an all new addition to the festival family, Retro CarFest. The brand new covid-compliant event will offer audiences a new and exciting experience allowing guests to reminisce and celebrate all things fashion, music, gaming and more. The highly sought after tickets for the three-national weekend events go on sale at 8am on Thursday 5th November 2020, costing from £17.
The Covid-compliant Camp CarFest will also be taking place in two locations across two weekends in July and August respectively, and has been described by the thousands of die-hard fans as 'the biggest ever village fete' with a mission to bring the true spirit of family to life. The weekend is packed to the brim with activities for every member of the family, underpinned by great music, celebrity chefs and as the name suggests, plenty of cars!
CarFest, was created by Evans in 2012 with the sole purpose of raising funds for UK Children's charities and over the past nine years has successfully raised over £16million for BBC Children in Need. In 2021 Camp CarFest aims to raise a further £2million for it's charity partners - BBC Children In Need, Ellen MacArthur Cancer Trust, Rainbow Trust, Starlight Children's Foundation and Teenage Cancer Trust.
Retro CarFest, taking place at Bicester Heritage from 18th -20th June, will transport you back to simpler times, as you celebrate the 60s, 70s and 80s with a splash of the 90s. Take the ultimate nostalgia trip with cars, film & TV, gaming, toys, gadgets, fashion, music and legends from each era, the festival is packed to the brim with activities for every member of the family. The brand new event includes:
Smashing headliners on the main stage, guaranteed to get everyone in the festival mood. Keep your eyes peeled for the full line-up coming soon!

Start your engines for the ultimate motor show, with an icon gallery housing the standout hero cars from films, motorsport and popular culture. As well as, the Retro Motor market with cars on display and sale too

Twiggy eat your heart out, the main stage will also be honouring the coolest trends and craziest outfits of each decade with a series of catwalk shows. Our festival visitors will also be judged by our 'Fashion Scouts' looking out for the best dressed guests

Cinema screens will be showing the greatest movie moments, TV shows, sporting moments and TV adverts from the last four decades

For the gamers out there, dedicated gaming zones will celebrate the best of home and arcade gaming, with an arcade full of retro items and collectables too

The Retro Hall of Fame

will be home to a collection of the greatest music memorabilia from the greatest brands and artists of the last forty years. Plus a visit to The Gallery of our Time is essential, an emotive exhibition of trends through the decades, including a giant conveyor belt of inventions and gizmos that have shaped technology today
And if that's not enough, then you can take a step further back in time through the 'time tunnel' into Vintage World. Set within the technical site at Bicester Heritage, the home of Historic Motoring will be transformed into a celebration of life in the 40s and 50s

Plus, shop to your heart's contents, with Retro and Vintage fashion stalls, purveyors of art, books and Retro memorabilia and for lovers of music, the all-important chance to add to your record collection at our Vinyl fair
Retro CarFest takes place from 18th – 20th June @ Bicester Heritage in Oxfordshire
Camp CarFest North takes place from 23rd – 25th July @ Bolesworth Estate in Cheshire
Camp CarFest South takes place from 27th – 29th August @ Laverstoke Park Farm in Hampshire
Tickets go on sale at 8am on Thursday 5th November and are only available online at: www.carfest.org.
For further information and images please email laurag@switchedoncomms.co.uk
About CarFest
CarFest is the brainchild of presenter Chris Evans. Featuring an incredible combination of cars, food, live music and family entertainment, the inaugural weekend event was staged at Laverstoke Park Farm in Hampshire in August 2012, and a further fifteen festivals have followed.
Covid compliant CarFest:
All three festivals have been redesigned to be Covid-compliant with some key guiding principles in place.
Space:

enough space to be properly socially distanced at all times

More stages

: all with socially distanced 'designated' pods for bubbles of six
Plus the team will be working to ensure that the whole site, stands and all exhibitors meet with government guidelines:
Socially distanced exhibitor stands spread across a larger space

Strict 2m queuing regulations

Bigger campsite pitches

Temperature checks on arrival, plenty of hand washing and cleaning facilities, sanitisers, on site signs and marshalls to make sure everyone sticks to the rules and keep each other safe
Fundraising details
In 2021, all profits from CarFest and Retro CarFest, including a guaranteed 20% of the price of each ticket, will be donated to UK children's charities.
BBC Children in Need (a charity registered in England and Wales under number 802052 and in Scotland under number SC039557) will receive 50% of the total funds raised*.
The following four charities will each receive 10% of the total funds raised**:
Ellen MacArthur Cancer Trust (Registered Charity No.1096491 in England & Wales and SCO44013 in Scotland)

Rainbow Trust Children's Charity (

Registered Charity No.1070532

)

Starlight Children's Foundation (Registered Charity No.296058 in England & Wales and SC047600 in Scotland)

Teenage Cancer Trust (Registered Charity No.1062559 in England & Wales and SC039757 in Scotland)
More details on the beneficiaries of the final 10% will be announced shortly.
*broken down as follows: 12.5% of the price of each ticket and 50% of the other profits from CarFest
**broken down as follows: 2.5% of the price of each ticket and 10% of the other profits from CarFest