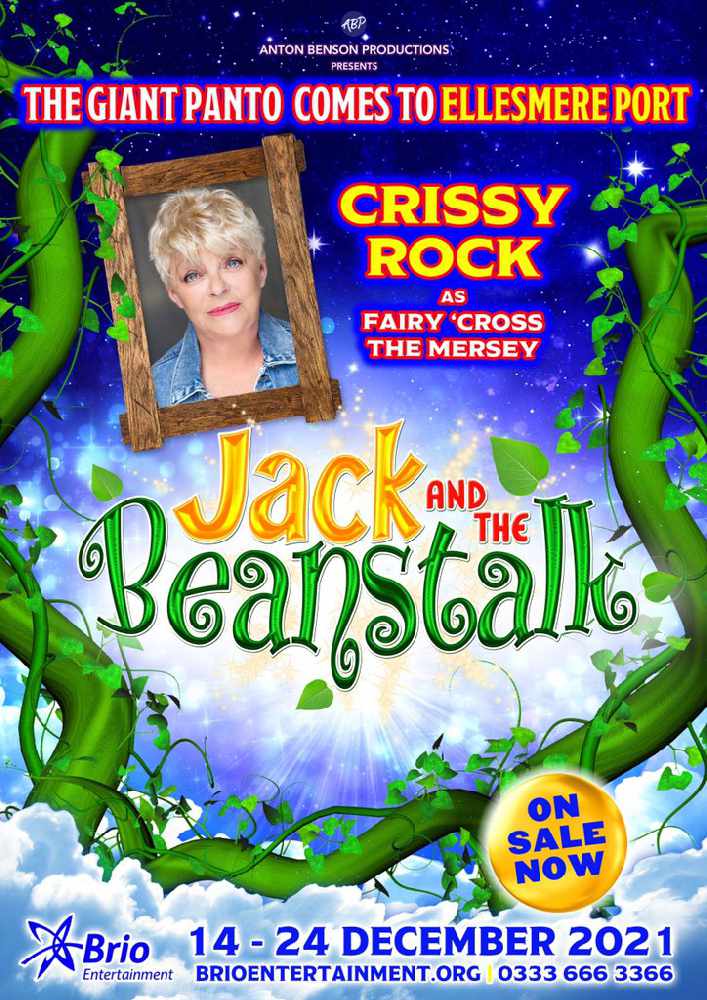 Brio Entertainment are excited to announce the return of their pantomime to Ellesmere Port Civic Hall this December.
Audiences can look forward to Jack and the Beanstalk which will run 14-24 December and stars Benidorm actress and comedian Crissy Rock as the Fairy 'Cross the Mersey.
The shows are produced by Anton Benson Productions who has been a regular favourite at Brio venues Ellesmere Port Civic Hall and at Northwich Memorial Court over the past number of years.

Brio Entertainment Manager Phil Harding is looking forward to the shows' return:
"We really missed welcoming our audiences to pantomime at Ellesmere Port Civic Hall last year, as they are a fantastic day out for many families and friends. We really enjoy working with Anton Benson Productions and can't wait to see another brilliant show from the team."

Last year's show was cancelled due to Covid-19 and Brio Entertainment are getting ready to welcome audiences back to their venues when it is safe to do so.
Tickets are already selling fast with further casting to be announced over the forthcoming months.

Pantomime producer Anton Benson added: "We are delighted to be bringing panto back to Ellesmere Port this Christmas. To celebrate the return of live panto at the Civic after a 12 month break we have a giant show planned for this December, full of Fi Fie Fo Fun!"

Jack and the Beanstalk is at Ellesmere Port Civic Hall from 14-24 December, tickets are available at:
http://www.brioentertainment.org
or by calling 0333 666 3366.
Brio Entertainment is part of Brio Leisure, a Community Interest Company created in May 2011. Located in two venues across Chester and Cheshire West at Northwich Memorial Court and Ellesmere Port Civic Hall, Brio Entertainment is home to a wide variety of events and available for room hire.