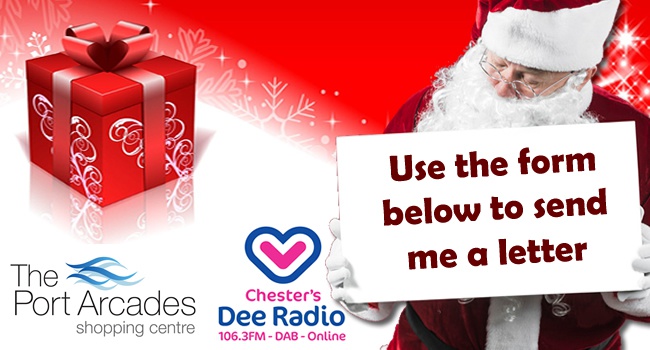 Santa Claus is coming to town and he's stopping off at Chester's Dee Radio first.
On Christmas Eve morning between 7 and 12noon, your child could get a call from Santa Claus to check that they've been good this year.
To register for a call from Santa – simply fill out your letter to Santa below, or alternatively pop into the Port Arcades Shopping Centre in Ellesmere Port and post your letter in Santa's post box.

Don't forget name, age and most importantly telephone number to call on Christmas Eve!
Santa Calls with The Port Arcades Shopping Centre shopping at the heart of Ellesmere Port
Find everything here to make your Christmas Special and Chester's Dee Radio
SPECIFIC TERMS AND CONDITIONS
Due to the high number of entries we receive each year for this promotion, we will do our best to accommodate as many children as possible to chat to Santa on Christmas Eve between 7am and 12noon
Children will be selected at random to receive a call from Santa