The Darren Antrobus Show
Thursday, 8 June 2023 - 39 minutes
Grosvenor Park Open Air Theatre returns this summer with a pair of unmissable theatrical delights staged in the atmospheric theatre-in-the-round.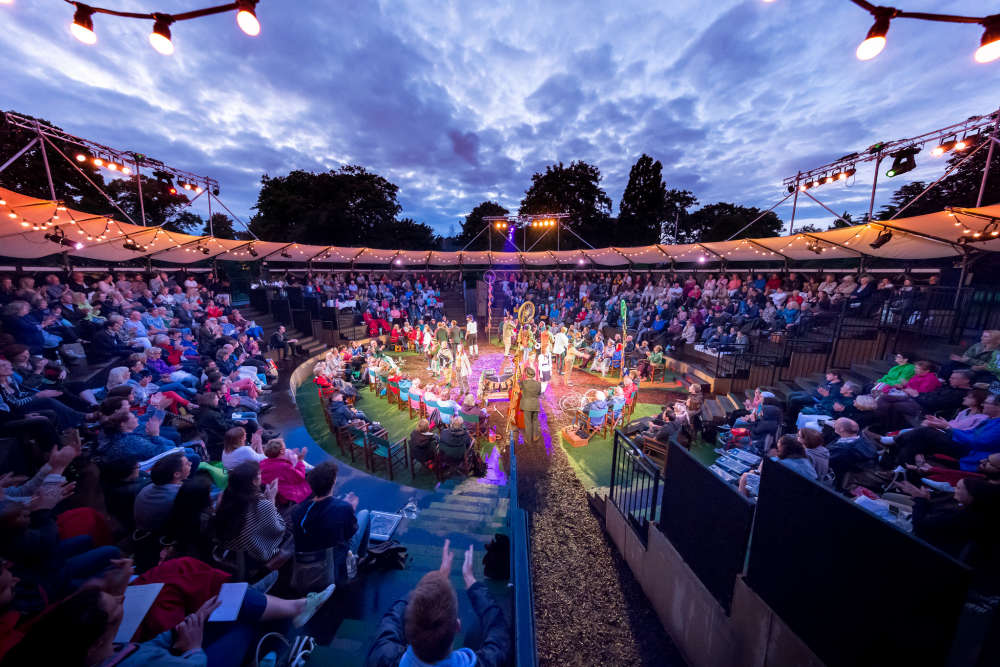 The open-air season will run from Saturday, 1 July to Sunday, 27 August.
Tickets go on sale to Storyhouse Members from Friday, 24 February and on general sale on Friday, 3 March, costing from £25.30 (£23 for Storyhouse members).
Shakespeare's magical A Midsummer Night's Dream will open the Grosvenor Park programme on 1 July.
The enchanting new production of the fairy-filled favourite will be directed by Elvi Piper (The Not So Grimm Twins - a Wrongsemble and Gala Durham co-production BOY Leeds Conservatoire) and is suitable for children aged six and up.
Prepare to be whisked away to the circus as sprites, young lovers and 'rude mechanicals' become entwined in the Bard's fantastical tale.
It will be followed by F Scott Fitzgerald's classic The Great Gatsby, brought to the stage in a new adaptation by writer Deborah McAndrew and directed by Conrad Nelson who previously both worked on Grosvenor Park's sparkling production of Pride and Prejudice in 2021.
The play, which opens on 21 July and is appropriate for ages 14 and over, promises to plunge audiences into the glamorous and decadent world of New York high society in the Roaring 20s.
And following the success of Alice in Wonderland in the park last season there will also be a new promenade show – The Wind in the Willows – for children aged five and under and their grown-ups.
The Grosvenor Park 'village' will also return with the popular tepee bar, seating areas, games, wood fired pizzas, cocktails and more.
And The Other Stage located in the festival tepee will host extra events and activities organised as part of the two-month park residency including live acoustic music, comedy and storytelling.
Storyhouse producer Helen Redcliffe says: "Grosvenor Park Open Air Theatre is back with a bang! We're thrilled to be working with Deborah McAndrew and Conrad Nelson again; their version of The Great Gatsby will be a raucous, sparkling, sensational show bringing the hedonistic Jazz era to the open-air theatre.
"Meanwhile A Midsummer Night's Dream is Shakespeare's most playful comedy and is perfect for audiences from the ages of six to 96. Director Elvi Piper is a brilliant talent and I know she's going to create an unmissable Shakespearean treat for our theatregoers this summer. Plus, our pizza oven is back on site alongside a bigger and better food and drink offer including a BBQ and delicious liege waffles! So, this year you're invited to the park whether for Shakespeare, Gatsby, pizza or a beer!"
Grosvenor Park Open Air Theatre is sponsored by MBNA, the major Chester based employer has backed the park since 2019.
Tickets cost £25.30 - £48.50 (members £23 - £45). Children aged 12 and under go free when accompanied by a full paying adult (A Midsummer Night's Dream only)
You can hear Daz Antrobus speak to cast and directors & producers from these to shows & The StoryHouse in Chester BELOW
For more details and to book visit www.grosvenorparkopenairtheatre.co.uk/
Subscribe to this podcast