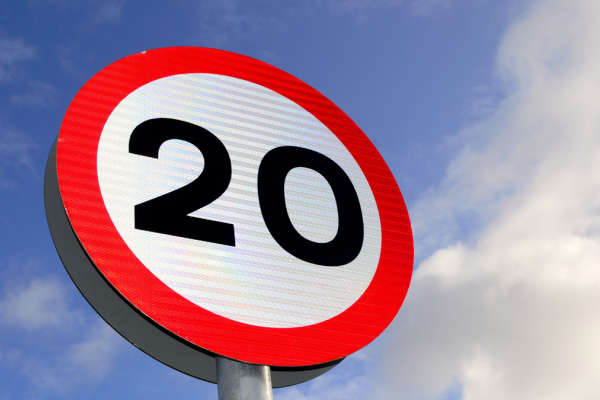 Working throughout the night, Saturday into Sunday, Council employees were busy unpeeling 30mph road sign stickers so that 20mph signs were clearly visible to motorists setting out on Sunday morning.
Following a review of Flintshire roads, using Welsh Government's 20mph place and exceptions criteria, a number of roads were identified which had the potential to be 'exceptions' to Welsh Government's new legislation and revert back to 30mph. These were subject to a formal consultation process over the summer.
In addition to the 'exceptions' a small number of roads were also identified that had the potential for existing speed limits to be increased above 30mph and were also subject to formal consultation.
Responses received during these consultations have been impartially assessed by the Council as part of the formal statutory process.
Until this process is complete, it is not possible to say when, or how many, of the roads put forward will be subject to a change in speed limit and until such time as this process is complete, these roads will be subject to Welsh Government's new 20mph legislation.
There are also some stretches of road in Flintshire that have a 30mph speed limit, but do not have streetlights. In these areas the speed limit has been set through the production of a legal document called a Traffic Regulation Order (TRO) and are known as '30mph By Order'.
This may have been done to improve road safety, or where a town or village has got bigger over time and now extends beyond the length of the original street lighting columns.
The full list of '30mph By Order' roads can be found on the Council's website
Not all existing '30mph By Order' stretches of road meet the criteria of Welsh Government's new legislation, but where they do, as the current limit has been set by a legally binding TRO, the speed limit cannot change until a new 20mph TRO is produced, consulted upon and potentially implemented.
These Orders have recently been advertised and objections are currently being considered. The consultation documents can be viewed on the Council's website.
Given the scale of work to be completed over the weekend, it is possible some 30mph signs, that should now be 20mph, will have been missed. Before reporting a missed sign to the Council we would ask residents to first check the website to see if the road is listed as a '30mph By Order'.