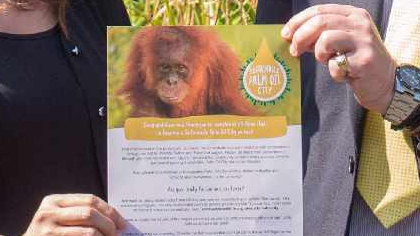 Chester is one step nearer to becoming the world's first Sustainable Palm Oil City, with thanks to the efforts of one of the largest organisations in the area.
The University of Chester has been given Sustainable Palm Oil City Champion status by Chester Zoo, as part of its campaign to create a demand in the UK for sustainable palm oil.
The University's Catering team has worked closely with its suppliers, to ensure that every product sold across the institution's catering outlets containing palm oil comes from a sustainable source.
Over the past few decades, habitat loss and conversion of forests for unsustainable agricultural use in Borneo and Sumatra have put numerous species at risk and conservation efforts are vitally important to protect these islands' biodiversity.
Cat Barton, Field Programmes Manager at Chester Zoo, said: "To have the University of Chester as such a committed, enthusiastic member of the campaign to create the world's first Sustainable Palm Oil City is a major step forwards in the fight to prevent extinction...It is vital that we increase awareness and demand for sustainable palm oil - and Chester is leading the way."