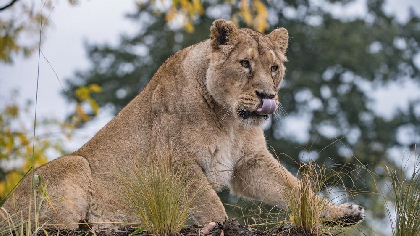 A pride of Asiatic lions – the world's rarest lion species – have taken their first steps into a specially-created new home at Chester Zoo.
The zoo's new conservation area is the UK's largest habitat for Asiatic lions. The habitat is designed to recreate the environment of the Gir Forest region of India, where the last few hundred Asiatic lions live in the wild.
The zoo hopes a new visitor zone will raise awareness of the threats faced by Asiatic lions in the wild, including human-wildlife conflict, and the conservation action needed to protect the species.
Lionesses Kumari and Kiburi - along with adult male Iblis (all 12 years old) - have been exploring their sprawling new home, before the space opens to visitors for the first time on Friday (18 October). Dave Hall, Team Manager of Carnivores at Chester Zoo, said: "Asiatic lions are impressively built animals, with compact bodies, powerful legs and strong jaws and teeth, making them superb hunters.
"Their retractable claws, which they use for gripping tightly on to prey, can be up to 38mm long and they have rough tongues, like sandpaper, for scraping meat from bones.
"They are truly majestic animals. This brand new habitat at the zoo – the largest in the UK – really is a fitting new home for them.