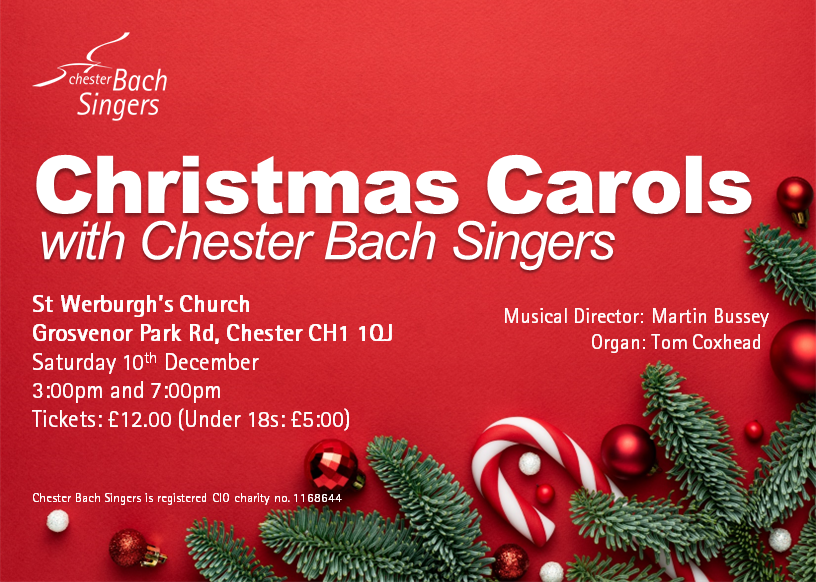 With Christmas just around the corner, rehearsals are in full swing as one of the top North West choirs is preparing to stage not one but two festive concerts in Chester.
Chester Bach Singers will bring the traditional sounds of Christmas to the historic surroundings of St Werburgh's Church on Grosvenor Park Road in Chester on Saturday 10th December with two traditional Carol concerts which will be staged at 3pm and 7pm. The concerts will be musically directed by popular local conductor Martin Bussey and the choir will be accompanied by Organist Tom Coxhead.
Speaking about the special festive concerts, Martin Bussey said "Chester Bach Singers are looking forward to singing a mix of Christmas treats this year, from Carols for everyone to join in like "Hark The Herald Angels Sing" to the classic "It's Beginning to Look A Lot Like Christmas" and the much loved foot-tapper "Sleigh Ride", we hope there is something for everyone."
As well as popular favourites, the concert will also feature arrangements of traditional Carols from Germany and the USA, gems from the Choral repertoire including Elizabeth Poston's "Jesus Christ the Apple Tree", an arrangement by Martin Bussey of the medieval Song of The Nuns of Chester and Christmas motets written French composer Francis Poulenc.
Following on from their festive events, Chester Bach Singers will host a special choral workshop entitled "Choral Inspirations 2" which takes place on Saturday 28th January 2023 at St Mary's Without - the Walls in Handbridge, Chester. The workshop commences at 10.30am, and will be led by Neil Ferris and Michael Higgins of renowned classical choral ensemble Sonoro.
Speaking about the workshop, Helen Crich of Chester Bach Singers said "We are delighted to be hosting this very special workshop in the heart of the city of Chester. It will be a superb opportunity to learn some new pieces as well as pick up some hints and tips on vocal and performance techniques from some the Country's finest classical singers. The workshop will feature well-known pieces then we will be introduced to commissioned new versions of the same works. As well as introducing six more fantastic new works into the choral repertoire, the aim of Choral Inspirations is to encourage singers to sing contemporary music, and the pieces that inspired them, through a series of workshops and side-by-side performances supported by Sonoro's highly accomplished professional singers. With Christmas not too far away, the workshop also makes the perfect Christmas gift for anyone with a passion for classical choral music. We particularly welcome young singers to get involved."
Following the workshop, participants will have the opportunity to perform the pieces they have worked on in public at a specially staged concert where they will get to sing alongside members of Sonoro and Chester Bach Singers.
Full details of the Carol concerts and the "Choral Inspirations 2" workshop and concert can be found at:
...where tickets can also be booked online.