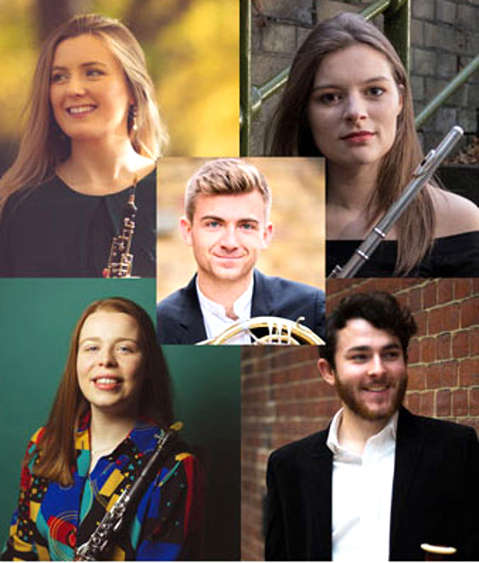 As live music events start to return to normal, following the restrictions of the Covid -19 pandemic, one of Cheshire's top music societies has announced its forthcoming season of concerts and events.
Chester Music Society's 2022/23 season includes a variety of events from classical concerts to Christmas favourites, concerts by internationally acclaimed musicians, local performers and rising stars.
The Society's new season opens on Wednesday October 12
th
with a showcase concert at St Mary's Creative Space at 7.30pm featuring piano duets performed by Martin Cook and John Bowen with works including music by Beethoven, Dvorak, Brahms and Grieg.
The Society's popular series of Celebrity concerts also resume from Wednesday October 19
th
when internationally acclaimed Shropshire based Baritone Peter Edge joins renowned concert Pianist John Gough at St Mary's Creative Space at 7.30pm for a performance of the Winterreise song
cycle by Schubert. Other celebrity concerts include a visit to Chester by the Goldscheider Ensemble led by French Horn player Ben Goldscheider.
The concert, also at St Mary's Creative Space takes place on Wednesday 12st December at 7.30pm
Speaking about launching the new season, Mick Clarke, Chairman of Chester Music Society said "
Like many other organisations, we have found the past two years incredibly difficult but, we are now able to put together a full, exciting season of music to which our very supportive audiences are cordially invited."
Other highlights during the season include a celebration of the 150
th
anniversary of Ralph Vaughan Williams as Chester Music Society's choir performs two of his best-known works - "The Lark Ascending" and his Sea Symphony, at Chester Cathedral on Saturday 19
th
November at 7.30pm. The concert will also feature Soprano Susanna Fairbairn, Baritone James Cleverton, Violinist Caterina Bordoni and Liverpool Sinfonia, all under the musical direction of conductor Graham Jordan Ellis.
The Society's famed Christmas Carol concert - "Christmas Crackers" makes a welcome return on Tuesday 20
th
December at 7.30pm when acclaimed Liverpool poet and "national treasure" Roger McGough will join
Chester Music Society Choir,
Chester Philharmonic Orchestra, Chester Cathedral Saturday Singing Club and Conductor Graham Jordan Ellis in the suitably festive and historic surroundings of Chester Cathedral for a concert featuring favourite Christmas Carols, readings and "Walking In The Air" from Christmas classic The Snowman.
Highlights in 2023 include a celebrity concert with world renowned Pianist Martin Roscoe, a showcase concert featuring young musicians, and performances by The Vale Royal Singers and The Jan Modelski Community Orchestras.
Full details of Chester Music Society and all upcoming concerts and others events in the new season can be found at:
...where tickets can be booked online.
Pictured - The Goldscheider Ensemble.