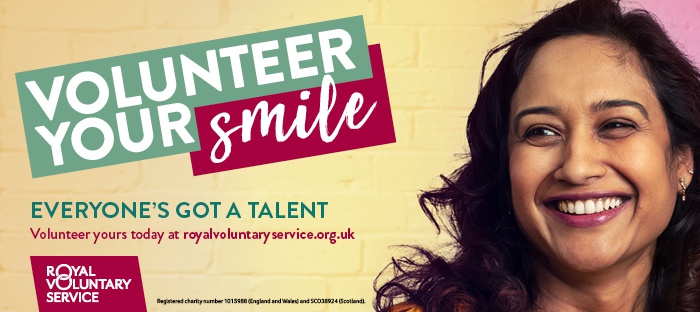 The role of NHS Volunteer Responders has been recognised by The Duchess of Cornwall at start of Volunteers' Week.
Over the past few weeks The Duchess of Cornwall, The Duchess of Cambridge, The Countess of Wessex and The Duchess of Gloucester have joined the ranks of Volunteer Responders, taking part in 'Check in and Chat' calls with those self-isolating, vulnerable or elderly
The NHS and Royal Voluntary Service continue to encourage those needing support to self-refer by calling 0808 196 3646
To mark Volunteers' Week and in recognition of a milestone quarter of a million tasks having been carried out by NHS Volunteer Responders, Royal Voluntary Service President, The Duchess of Cornwall, has thanked volunteers across the country for the many acts of kindness they provide.
The first week of June is traditionally Volunteers' Week, when we celebrate our unsung heroes. This year in particular, we owe a great debt of thanks to all our wonderful volunteers, who have stepped forward in astonishing numbers, pulling together to support those affected by COVID-19. As the very proud President of the Royal Voluntary Service, I should like to say that you truly are the backbone of our country. To each and every volunteer – thank you from the bottom of my heart.
A quarter of a million tasks have now been carried out by the NHS Volunteer Responders recruited by Royal Voluntary Service to support the NHS and to help the most vulnerable to coronavirus. To aid people isolating during the pandemic, the volunteers have been providing grocery and prescription deliveries, lifts to medical appointments and 'check in and chat' calls.
With hundreds of thousands of volunteers on call from Carlisle to Canterbury, the NHS Volunteer Responders are able to leap into action wherever help is needed. The scheme now averages 7,000 tasks a day, and 98% of requests for help – which can be made by referrers or individuals – are delivered within 24 hours, the majority (70%) matched and delivered within two hours. The app, which quickly pinpoints the nearest volunteer using geo location, provides an effective safety net during the pandemic.
Members of the Royal Family have also joined the ranks of NHS Volunteer Responders for 'check in and chat' calls. Over the past few weeks, The Duchess of Cornwall, The Duchess of Cambridge, The Countess of Wessex and The Duchess of Gloucester have been making calls to people self-isolating in the community as part of the 250,000 tasks completed to date.
One of The Duchess of Cornwall's calls was to Doris Winfield who has been self-isolating. Doris, aged 85 in Rickmansworth, said "Having a chat with The Duchess of Cornwall meant the world to me. I've been incredibly lonely over the last couple of months and it was wonderful to talk to her. We talked about life in isolation and shared hobbies. She was very interested in my family and how I was coping. It really cheered me up."
One of the calls made by The Duchess of Cambridge was to Donna Williams (aged 42) a mother of two who is currently shielding her daughter Alessandra who has a rare form of Type 1 Diabetes.
One of The Countess of Wessex's calls was to Harry Deboo, aged 89 from Liverpool. Harry lost his wife around three years ago and recently had a triple by-pass – he also received a letter saying he must self-isolate. Harry said "It was great to chat to The Countess of Wessex and really made my week. I have one son who doesn't live locally – so I don't get to see many people – especially now. I also like to keep the memory of my wife alive and it was great to chat about her. She really listened to every word and it was great to share our lockdown experiences together!"
The Duchess of Gloucester spoke with Beverly Webb aged 82 from Maidenhead. Beverly is housebound and lives alone and is missing the social interaction she had before lockdown.
The NHS and Royal Voluntary Service are encouraging anyone in need of support – whether they have been asked to shield by a health professional or are vulnerable for another reason – to seek help by calling 0808 196 3646.
Catherine Johnstone CBE, Chief Executive of Royal Voluntary Service said: "With Volunteers' Week fast approaching we want to say a huge thank you to all the NHS Volunteer Responders 'on call' across the country and to our Royal Voluntary Service volunteers, many of whom have been supporting their community and the NHS for decades.
"Volunteering has never been so critical and our volunteers, complementing those from other organisations, make a huge difference and give many people a much needed safety net.
"This is a marathon not a sprint and as members of families, social groups and communities go back to work as lockdown restrictions ease, the support of our volunteers will continue to be needed."
Chief Nursing Officer for England, Ruth May said: "Thanks to the kindness of the British public at our greatest time of need, thousands of people across the country have been supported by our volunteers - we know that the smallest task has made a world of difference during these uncertain times.
"We are extremely grateful for the incredible efforts so far, which will continue over the coming months - in every village, town and city in England, there are people on hand who can help you and your loved ones so do not hesitate to get in touch if you need support. From a phone call if you're isolating to getting help with shopping and medication, the NHS army of helpers are there for you."
Royal Voluntary Service, the national volunteering charity, will also be hosting a special online event to thank its volunteers and the NHS Volunteer Responders for their contribution, particularly during the current time.
Her Royal Highness The Duchess of Cornwall, will give her personal message of thanks to volunteers at the event via video message. There will be other messages and exclusive performances from this year's winners of The Greatest Dancer, Michael and Jowita, the London Contemporary Voices Choir and former Royal Harpist, Anne Denholm.
The Royal Voluntary Service event of thanks will take place on Monday 1st June 2020 at 2pm.at the Royal Voluntary Service Virtual Village Hall Facebook group www.facebook.com/groups/VirtualVillageHall/, on the Royal Voluntary Service website royalvoluntaryservice.org.uk/VVH) and via the Virtual Village Hall YouTube channel.
Laura Chow, Head of Charities at People's Postcode Lottery who are supporting the Volunteers' Week thank you event, said: "Volunteers give their time, energy and enthusiasm to help others and we are grateful for their selfless service. We're delighted that players of People's Postcode Lottery are supporting Royal Voluntary Service and are proud supporters of Volunteers' Week."
About Royal Voluntary Service:
· Royal Voluntary Service is one of the largest voluntary service organisations in the country. We inspire and enable thousands of volunteers to give their skills, experience, energy and time to help people in need in hospitals, at home and in the community.
· Originally set up as the Women's Voluntary Services in 1938 (subsequently the WRVS from 1966-2013), we started out helping civilians during the Second World War.
· To mark our 75th anniversary in 2013, we changed our name to 'Royal Voluntary Service' to reflect the role played by all our volunteers, men as well as women.
· The charity's volunteers improve patient experience in hospital, aid recovery after a stay on ward, help older people better support themselves at home and stay fit and active and build meaningful social connections.
· Royal Voluntary Service supports volunteers to run services in the community such as lunch and dining clubs, physical activity classes, craft, gardening and other hobby groups.
· The charity is one of the UK's largest hospital retailers with 230 volunteer-run shops, cafes and trolley services providing tea and company to patients, hospital staff and visitors. Royal Voluntary Service promotes healthy eating and drinking in hospitals through its Healthier Choices programme. It has been ranked top of the Healthy Hospital Food League Table by the Campaign for Better Hospital Food and has been awarded a Social Enterprise Mark for its retail operation.
· We work collaboratively with other charities, social care providers and the NHS to help create a society where everyone feels valued and involved.
· For more information on the Royal Voluntary Service, please visit royalvoluntaryservice.org.uk/.