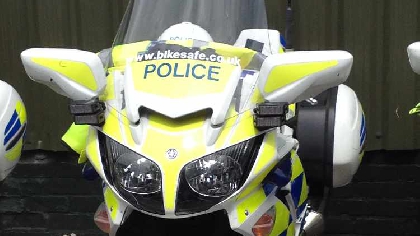 Nearly a quarter (24.7%) of all road fatalities in Cheshire in the last three years have been motorcyclists.
Cheshire Police along with the local fire and rescue service have released the statistics as they launch their annual motorbike safety campaign.
This time of year usually sees an increase in riders as the weather improves.
Motorcyclists represent around just one per cent of road users but between 2014 and 2017 nearly 1,000 of them (962) were injured on our roads in Cheshire, with 36 per cent of them being killed or seriously injured.
Cheshire Police Inspector Steve Griffiths said: "Motorcyclists are far more vulnerable than car, van and lorry drivers and the number of fatal collisions involving motorcyclists in recent years highlights this fact.
"We are urging all motorcyclists to take extra care while out on the roads and to take responsibility for their own safety."
Riders are urged to follow this simple advice:
Prepare
Ensure your bike is safe to ride
Make sure you have the correct protective clothing for riding – a long sleeved jacket, long trousers, full finger gloves, a helmet with a high protection rating and good footwear
Riders should ideally wear fluorescent clothing to make them as visible as possible.
Look
Ride defensively, like you expect the unexpected
Take a lifesaver glance, a last look around before you manoeuvre
Anticipate potential hazards, positioning yourself in the best place to maximise visibility of potential hazards.
React
Always think ahead with time to react
Be aware of other road users and get in the right position on the road to anticipate hazards and take action.
Stay in control
Ride at a speed that will allow you to slow down and stop in good time, whatever the road condition
Be careful on bends and don't overtake if you can't see the road ahead
Don't do anything outside your own capabilities or take unnecessary risks.
Cheshire Fire and Rescue Service organises Biker Down courses. The free training is run by bikers, for bikers and offers the chance to learn practical skills to lessen the chances of being involved in a crash.
The courses also provide essential first-aid training and advice on what to do if you are the first on the scene of a crash where someone is injured.
Places are limited and can be booked by sending an email to bikerdown@cheshirefire.gov.uk.