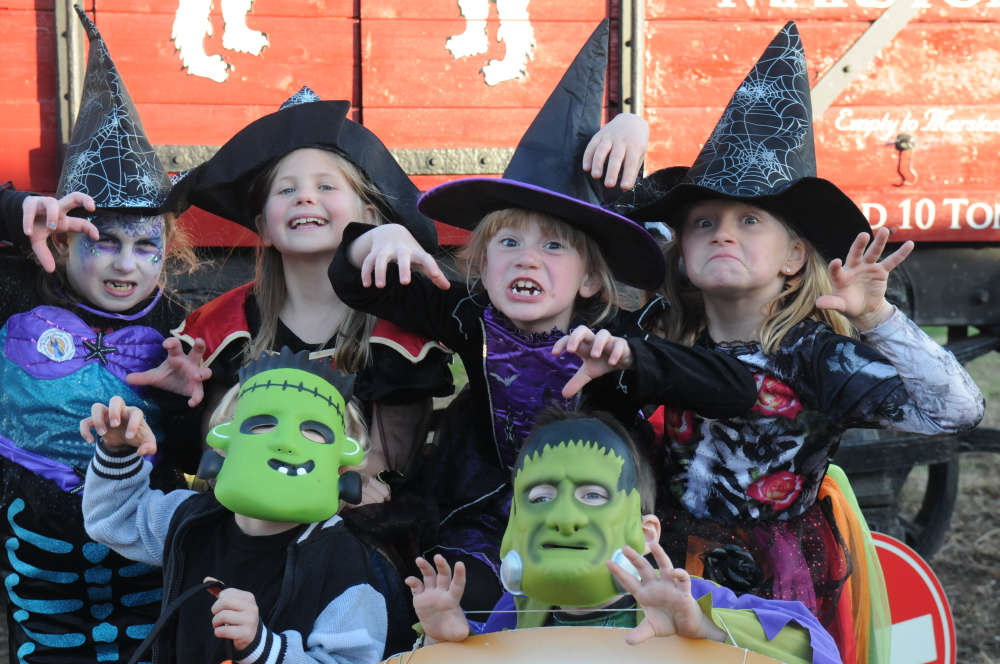 West Cheshire Museums is encouraging children to 'get into the spirit' this half-term with fun, spooky Halloween drop-in craft activities at three of its museums in Chester and Northwich.
From creepy tales in a 'haunted house' to mask and spider-making; Halloween trails and skeleton-making, there is something to thrill most young visitors. Many of the events are free (though donations are gratefully received) but for the squeamish, there will also be drop-in craft activities where children can design and make a Roman coin, as well as find out first-hand about Victorian chores. Visitors do not have to pay to go into any of the museums to take part in these activities. For more information, go to:
Grosvenor Museum:
27 Grosvenor Street, Chester CH1 2DD 
25-27 October, 10.30 – 12.30pm – Halloween Horrors – mask, spiders and skeletons
Youngsters can get set for Halloween by creating a 'spooky' starter set by making a creepy mask, dangly spider and a deadly 3ft 'glow-in-the-dark' skeleton.
31 October, 6pm – 8pm, Spooky Stories in the Historic Haunted House
Creepy tales of witches, ghosts and eerie goings on will keep young visitors on the edge of their seats in the 'House Through Time' area of the museum, which will be transformed into a terrifying haunted house for the evening. £2 for an adult and up to two children (extra children £1 each). Suitable for children over 8-years old.
Lion Salt Works Museum:
Ollershaw Lane, Northwich CW9 6ES
Saturday 29 October, 11am – 2pm, drop-in, Halloween trail, stories and scariest costume prizes
There will be fun, Halloween-themed craft activities for children, an outdoors Halloween trail and spooky story-telling in the historic and atmospheric Thompson Suite as part of the museum's half-term activities. Children's craft activities will include making their own paper-Halloween mask, creating tiny skeletons using lollipop sticks as well as designing a template for a pumpkin and colouring it in. The craft activities are free but a £2 donation per child is gratefully accepted. Everyone is encouraged to 'dress to thrill' and wear their scariest costume for which small 'on-the-spot' prizes will be given for the best outfits. There is free parking and access to the large play area, café and shop.
On 25-26 October, 10.30 - 4pm, drop-in Make a Roman coin
Why were the Romans in Northwich? Where does the word salary come from? All these questions are answered in this Autumn's temporary exhibition. To celebrate, children will have the chance to design and make their own Roman coin. The craft activity is free but a £2 donation is gratefully received. The Lion Salt Works has free parking and an imaginatively-themed play area. Everyone can visit the onsite café.
Weaver Hall Museum and Workhouse:
162 London Road, Northwich CW9 8AB
On 26-27 October, 10.30-3.30pm, drop-in on Victorian Chores
The museum started life in 1837 as a workhouse and this half-term, children can have a go at some of the chores, like doing laundry, making butter and making a rag rug to keep warm. A £2 donation is suggested. The museum has free parking and everyone can access the café and small shop.
26 October, 10.30-4pm Sustainability Clothes Swap*
Following its previous successful clothes swaps, Weaver Hall Museum will be giving people the chance to find a new outfit without spending a penny by bringing in clothes and trading them for others. Clothes are available for all sizes and ages. Halloween costumes are particularly welcome.
Councillor Louise Gittins, Leader of Cheshire West and Chester Council said: "Halloween is a time of year that children love and thanks to the creative and imaginative activities planned by our museum staff, there is a wealth of exciting and fun activities for children to enjoy. I wish them all a spooktacular time."
*Clothes Swap information: Clothes must be clean and in good condition. Items will be checked on the door. Items that are well-worn, faded, personalised, damaged, or in poor condition will not be accepted. Max. 10 items per person may be brought. We recommend bringing around 5-8 items each. Swaps are one-for-one, independent of brands, labels etc. Children's clothes welcome. Shoes, bags, and accessories welcome. Shoes must come in matching pairs and sizes. Worn earrings not accepted.Underwear not accepted. Unused tickets cannot be reimbursed, although they may be transferred to any future swaps.
Pictured - Young visitors 'dressed to thrill' at the Lion Salt Works Museum.