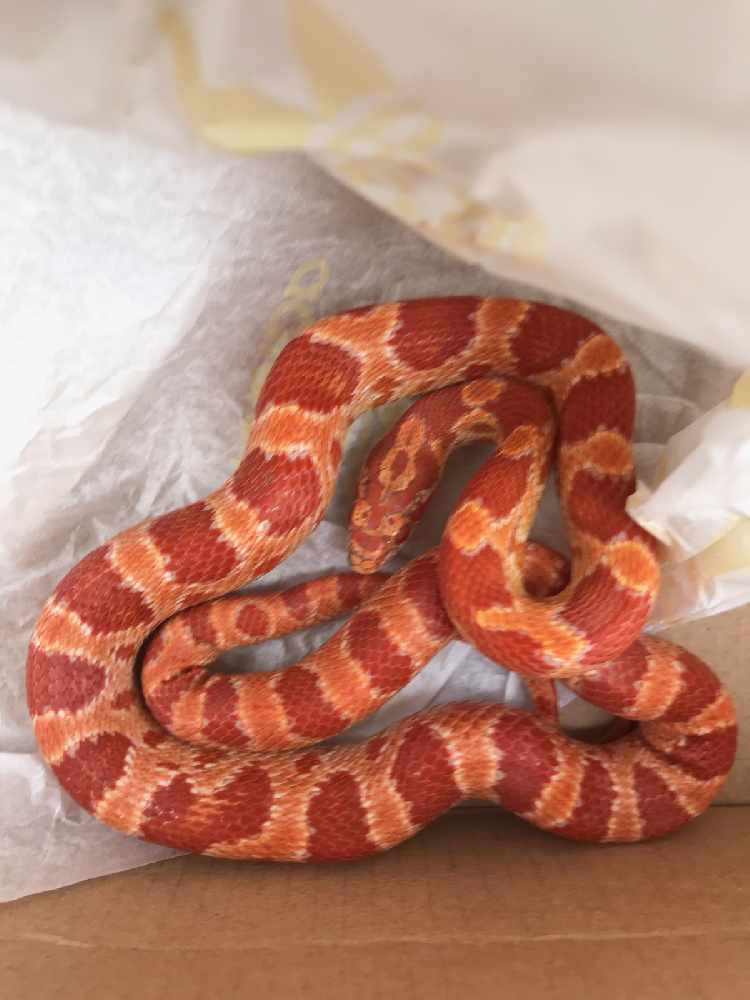 A pet corn snake found under a bucket in a shed in Cheshire has been rescued by the RSPCA and an appeal has been launched to find his owner.
A Middlewich householder got quite a shock when he picked up a bucket in his shed - and found the little snake with striking brown and orange markings curled up underneath it.
RSPCA Inspector Leanne Cragg said: "We were called for help after the shocked man found the snake under a bucket he was going to use while washing his car. His wife, who had kept pet snakes in the past, was confident enough to pick the little reptile up and put him in a box to await my arrival.
"Nicknamed Woody by the couple, the corn snake appeared in reasonably good condition, so I took him to a specialist boarding facility where he can be looked after until we can either reunite him with his owner or rehome him.
"Snakes are excellent escape artists so I suspect this corn snake had escaped from somewhere nearby, so we are very keen to try and reunite this little pet with his owner. If anyone has any information about this corn snake, please could they contact the RSPCA appeals line on 0300 123 8018."
Many of the snakes the RSPCA's officers are called to collect are thought to be escaped pets. We would always recommend owners invest in an enclosure suitable for the particular species and that the enclosure is kept secure (and locked if necessary) when unattended. It is possible to microchip snakes and we would recommend that owners ask their exotics vet to do this, so that snakes can be easily reunited if lost and found.
Reptiles, particularly corn snakes, will take the opportunity of a gap in an enclosure door, or a loose-fitting lid to escape.
The details of this lost reptile have also been added to Pets Located in an effort to find the owner.
The RSPCA advises anyone who finds a snake they believe is non-native to keep a safe distance, monitor the snake and to contact the charity for advice by calling 0300 1234 999.
For more information about the care of exotic pets please visit www.rspca.org.uk/exotics.
To help the RSPCA continue rescuing, rehabilitating and rehoming animals in desperate need of care please visit our website or call our donation line on 0300 123 8181
Our exciting new strategy - Together for Animal Welfare - has eight bold
ambitions which will improve the lives of many millions of animals here and
around the world by 2030.