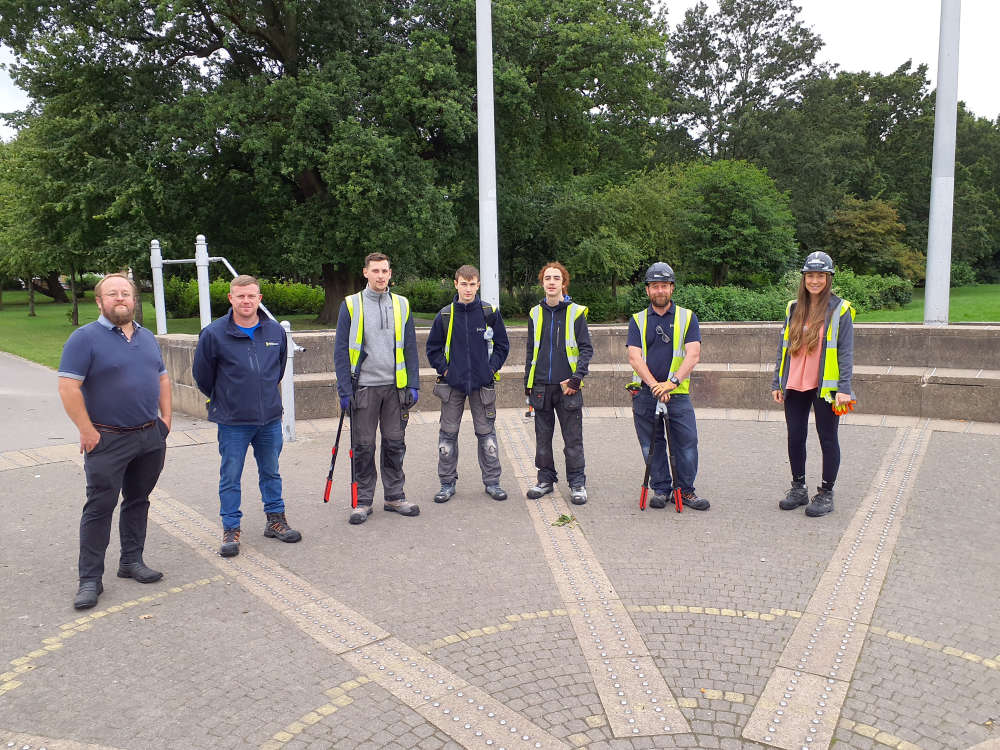 VINCI Construction UK has arranged site visits to the new Ellesmere Port public hub building in October.
There will be an opportunity to have a look around the building with bookable tours taking place every day between the 4 and the 8 of October. There are two tours for a maximum of eight people each day: 10am to 11am and from 2pm to 3pm. To book a place visit:
https://opendoors.construction/site/454
Whitby Park gets a tidy-up:
Volunteers from VINCI UK's building team joined the Council's parks team plus supply chain partners Constructicon, HE Simm and Tyrrell Electrical, to help tidy up Whitby Park near to their Ellesmere Port Hub project site.
A walkaround by some of the VINCI team, guided by Cheshire West and Chester Council's parks team highlighted some of the overgrown areas that were becoming unusable, and would benefit from the volunteers work.
The VINCI-led team donated their time, skills and materials to complete a range of activities to enhance the public spaces in the park, including cutting back overgrown bushes that were preventing clear access along walkways within a mini woodland area, repairing damaged fence lines and replacing missing bridge timbers, pruning trees and removing invasive plant growth.
Mechanical and electrical systems contractor HE Simm also kindly donated £200 to support the park's aim of planting a wildflower meadow.
Councillor Richard Beacham, Cabinet member for inclusive growth, economy and regeneration for Cheshire West and Chester said: "These improvements will help local people to continue to enjoy family picnics, dog walking and participating in sporting activities at Whitby Park.
"In new contracts like the construction of the Ellesmere Port hub building and the Chester Northgate project, the council includes an extra 'Social Value' clause so that the local community can see additional benefit as a result of public spending. The contractor is then required to provide specialist support to various community projects, or create employment, apprenticeship or training opportunities for local schools, colleges and the University for example.
"In Ellesmere Port, VINCI will complete the construction work for the new hub building later this year, which will include easy access to services like Job Centre Plus and the Work Zone on the ground floor."

Pictured - Andy James (Cheshire West), Dave Halligan (HE Simm), Aidan Donohue (Tyrrell Electrical), Kian Ridings (Tyrrell Electrical), Luke Ryder (Tyrrell Electrical), Jimmy Doyle (HE Simm), Rachel Greenwood (Vinci).