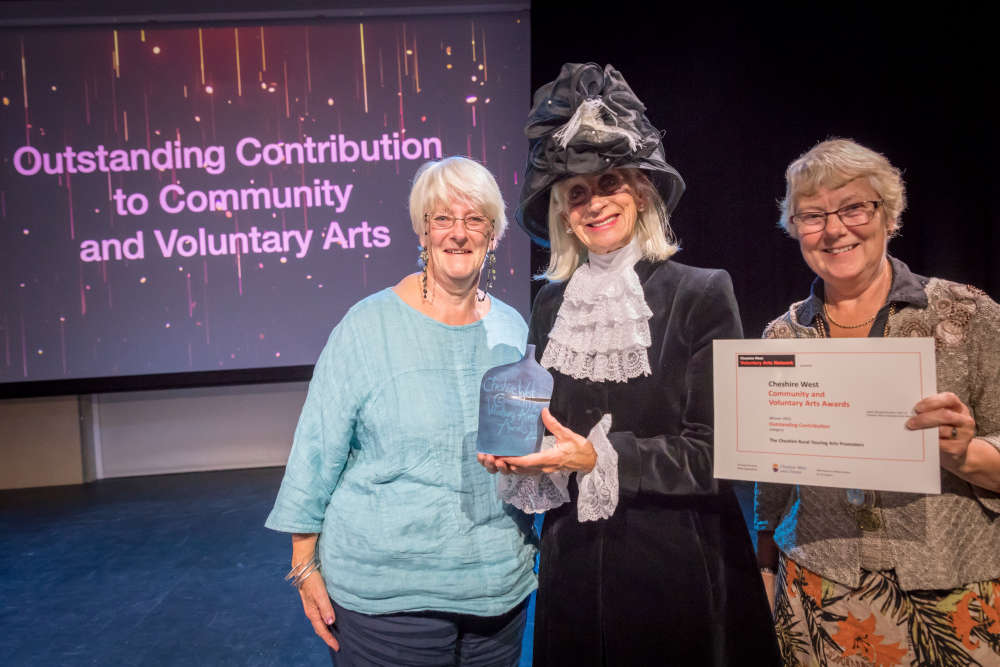 An Outstanding Contribution Award was presented to the Cheshire Rural Touring Arts volunteer promoters, who select, manage, market and host the live performances for their communities at the Cheshire West Community and Voluntary Arts Awards 2022.
Cheshire Rural Touring Arts is a shared service between Cheshire West and Chester Council and Cheshire East Council. They have launched the new Autumn season programme, taking place at venues across Cheshire.
This season there is a wonderful mix of styles and themes to please everyone. Well-known comedy actor Jeffrey Holland (Hi-Di-Hi, You Rang M'Lord) brings his delightful one-man performance of Stan Laurel and Oliver Hardy's final meeting in 'And This is My Friend Mr Laurel'.
Just Some Theatre present 'The Killer Question' a dark comedy murder mystery thriller which will leave you guessing.
Badapple Theatre are bringing 'The Frozen Roman' to Cheshire, where a village pub is under threat from a housing development, can the locals find help from unexcepted places?
More comedy is on offer from the incomparable poet and comedian Kate Fox (radio 4) who brings her new show looking at her own diagnosis of autism through the theme of her beloved Doctor Who in 'Bigger on the Inside', blending spoken word, stand up and personal memoir.
There are two fantastic music nights out in the company of wonderful musicians. Ma Bessie and her Pig Foot Band with 'Ma Bessie's Prohibition Party', is a trip back to 1920's/20's blues and Jazz, moving up to present day focusing on the life and music of the Empress of Blues Ma Bessie, performed by the remarkable Julia Titus and her band. Take a trip across the channel with Fifi La Mer with 'A journey into French Music from Offenbach to Gainsbourg' looking at 100 years of French music.
For children and families, there is a welcome back for Funnelwick Limb to Cheshire with 'The Chronicles of Atom and Luna', a tale of two heroes on a journey to save their friend. Told with story, music and puppetry through a beautiful mix of nature and fairy tales, created by Murray Lachlan-Young and directed by Theatre Porto's Nini Hajiyianni.
For ages 7+ Hawk dance theatre burst onto Cheshire Rural Touring Arts with 'Inside the Igloo', using dance, projection and storytelling for ages 3+.
Coalesce Dance Theatre bring 'The Old Green Time Machine', with two intrepid time travellers who are in a race to save the world from environmental disaster, with an interactive stay and play session after the show, for ages 4+.
Councillor Louise Gittins, Leader of Cheshire West and Chester Council said: "You can rely on Cheshire Rural Touring Arts to keep us all entertained and they are bringing some fantastic shows right to your doorstep.
"The autumn season presents shows across the borough from Neston Town Hall and Tarvin Community Centre to Ellesmere Port Library and St Mary's Creative Space calling in at Farndon, Backford and Upton by Chester Village Hall. I'm sure this new season will delight young and old alike."
Performance details and online booking is available on the website:
www.cheshireruraltouringarts.co.uk
The new season brochure is available online:
https://www.cheshireruraltouringarts.co.uk/wp-content/uploads/2022/09/CRTA-Season-brochure-Aut22-final.pdf
Cheshire Rural Touring Arts (CRTA) is funded by Arts Council England and Cheshire West and East Councils to work with an army of voluntary promoters who promote live high quality professional performance events in small intimate community spaces across Cheshire.
This experience not only gives access to high quality performances on rural doorsteps but is a way of animating community buildings or spaces and bringing communities together safely, both physically and digitally.
www.cheshireruraltouringarts.co.uk
National Rural Touring Forum (NRTF) networks, develops and supports the ecosystem that delivers high-quality creative experiences across communities and rural areas in the UK. The aim of the NRTF is to strengthen and support rural populations to bring professional work to their venues. https://www.ruraltouring.org/
Contact Anne Crabtree or Jen Henry
email: