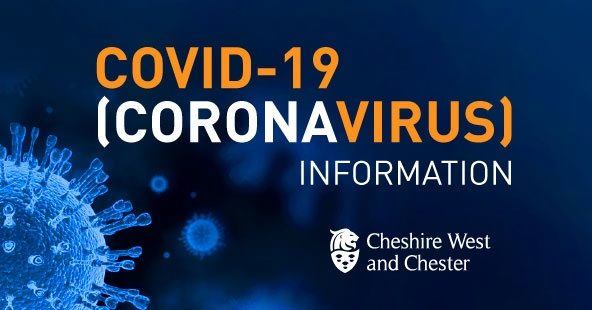 Residents in Cheshire West and Chester are strongly urged to continue stay at home to help reduce COVID-19 infection rates even further prior to schools opening.
All schools and colleges will open on 8 March in the first stage of the Government's roadmap out of lockdown, however infection rates are still high in the borough and local hospitals continue to be under pressure.
Ian Ashworth, Director of Public Health for Cheshire West and Chester Council, said "Over the next week, it's really important that residents keep to the current lockdown rules and play their part in reducing infection rates.

"Although schools and colleges are as safe as they can be, there is the potential that high rates in the community could mean a rise in COVID rates in school and college settings.

"By starting at a low number of infections on 8 March, we can reduce the risk of rates going up rapidly, as we have seen following previous lockdowns.

"It is vital that we do everything we can to help our children and young people continue with their education uninterrupted.

"With lower rates, we can also look forward to the gradual easing of restrictions over the coming months as set out in the Government's roadmap."
Under current lockdown rules, people should continue to stay at home and only leave the house for essential reasons such as work, education, shopping and medical appointments. A full list of what is permitted is available at: www.gov.uk/coronavirus
A combination of the vaccine roll-out and testing will help control the virus. The vaccine programme is running well with good uptake among priority groups and those who cannot work from home can access regular testing even if they do not have symptoms. Details on asymptomatic testing centres can be found at: www.cheshirewestandchester.gov.uk.
If residents experience symptoms of COVID (fever, new continuous cough or loss or change of taste or smell or other symptoms that may be related to COVID*) they can obtain a test by visiting: nhs.uk/coronavirus or calling: 119. If the test is positive, residents must follow the guidance including self-isolating immediately. More information on self-isolating can be found at: www.nhs.uk/conditions/coronavirus-covid-19
For those who need support during this difficult time please visit www.kindtoyourmind.org which has details of 24/7 crisis helplines and resources to help mental wellbeing.
*Other symptoms can include shortness of breath, muscle or body aches, fatigue, sore throat, headache, nasal congestion or runny nose, diarrhoea, nausea or vomiting. However, it is important to remember that these are very common symptoms, and most people who have these symptoms will not have COVID-19.
Book a test at: nhs.uk/coronavirus or by calling: 119. When booking choose the option that the local council has asked you to get a test. If you only have these symptoms, you do not need to self-isolate unless you test positive for COVID-19.