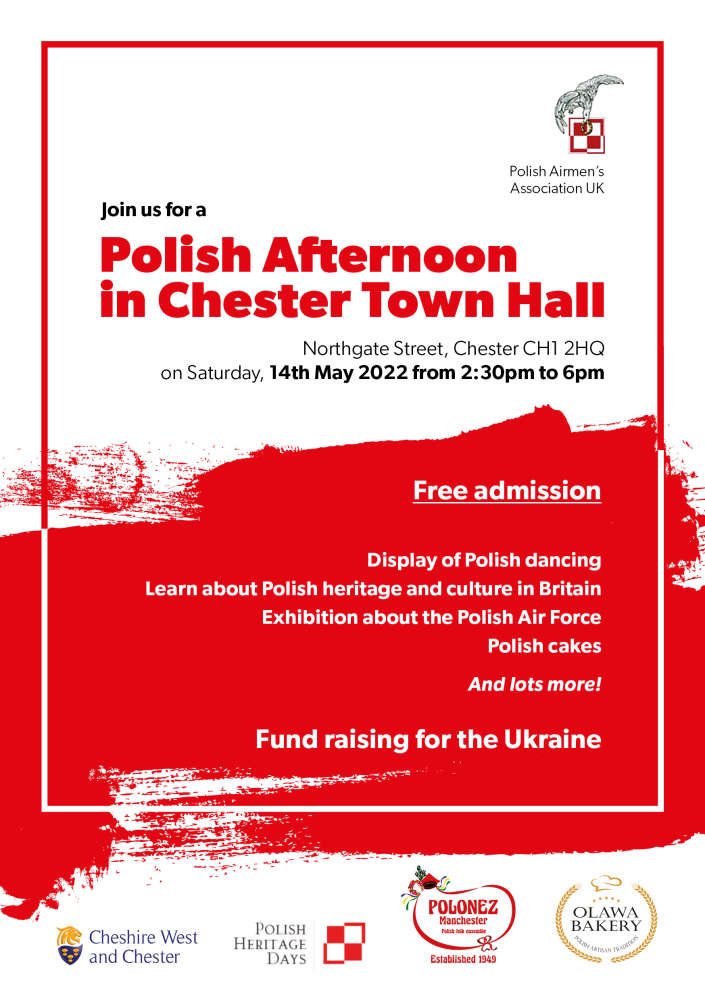 A long history of friendship between the city of Chester and Poland will be celebrated at a special event at Chester Town Hall on Saturday 14 May.
The Lord Mayor of Chester will be welcoming the Polish Airmen Association UK to celebrate the anniversary of the unveiling, and recent refurbishment, of a plaque which the Poles presented to the city 78 years ago.
In partnership with Cheshire West and Chester Council, the Polish Airmen's Association UK is organising the rededication ceremony, which will be followed by a Polish Afternoon from 2:30pm to 6pm.
All residents are invited to the Polish Afternoon, a free event which will provide an opportunity to learn about Polish heritage and culture.
There will be a display of Polish dance, delicious cakes, a Polish Air Force exhibition, information stalls and more.
Councillor Louise Gittins, Leader of Cheshire West and Chester Council, said: "Throughout our history and during the war, our communities developed strong connections with Poland and we are proud to continue this relationship. It is great news that the plaque has been refurbished and we encourage residents to go along to the Town Hall on Saturday to view it and enjoy what promises to be interesting insight into Polish culture and heritage."
During the Second World War, the Polish Air Force had 14 squadrons under overall RAF command and its own training and maintenance units.
One such maintenance unit was found at RAF Sealand on the Wales border. As a token of thanks for great hospitality given by citizens of Chester, the Poles presented a plaque to the city where wreaths were laid 78 years ago.
For more information, please contact:
equalities@cheshirewestandchester.gov.uk
More details are available online at: