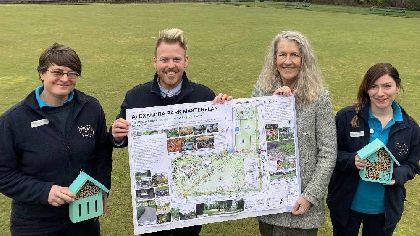 The drop in sessions hosted by Cheshire West and Chester Council and Chester Zoo attracted over 120 people.
During the drop in sessions 30 individuals and families signed up to be volunteers once the project is complete. The new volunteers were particularly interested in maintenance, biodiversity surveys, planting trees and litter picking.
Other interests from people attending were increased biodiversity and education. There was also strong support for a new social hub where people can meet and get a drink and something to eat.
The drop in sessions brought together allotment holders, sports groups, schools, families and local residents giving a valuable insight into how different groups want to use their park. The project team were overwhelmed with positive feedback resulting from the pollinator park concept, and as they continue to develop green spaces they will be asking for more support to help enhance these thriving urban pockets of green space.
Members of the allotment association expressed interest in working with the Council to promote biodiversity in the community. Alexandra Park will be encouraging more pollinator insects.
Councillor Louise Gittins, Cabinet Member Communities and Wellbeing attended one of the drop in sessions: "The drop in events were a fantastic indication of how the community are really backing this much needed redevelopment. Officers were on hand to discuss the final plan with residents and feedback was incredibly positive.
"Chester Zoo spoke with over 30 families and individuals who signed up to volunteer their time to help support the park, I would urge everyone to think about how they can help this project in the future.
"Alexandra Park not only aims to increase pollinator insect numbers, it also gives the community a chance to really get involved and meet the teams who are responsible for maintaining our green spaces. By working together, we can provide beautiful parks that our communities can be proud of."