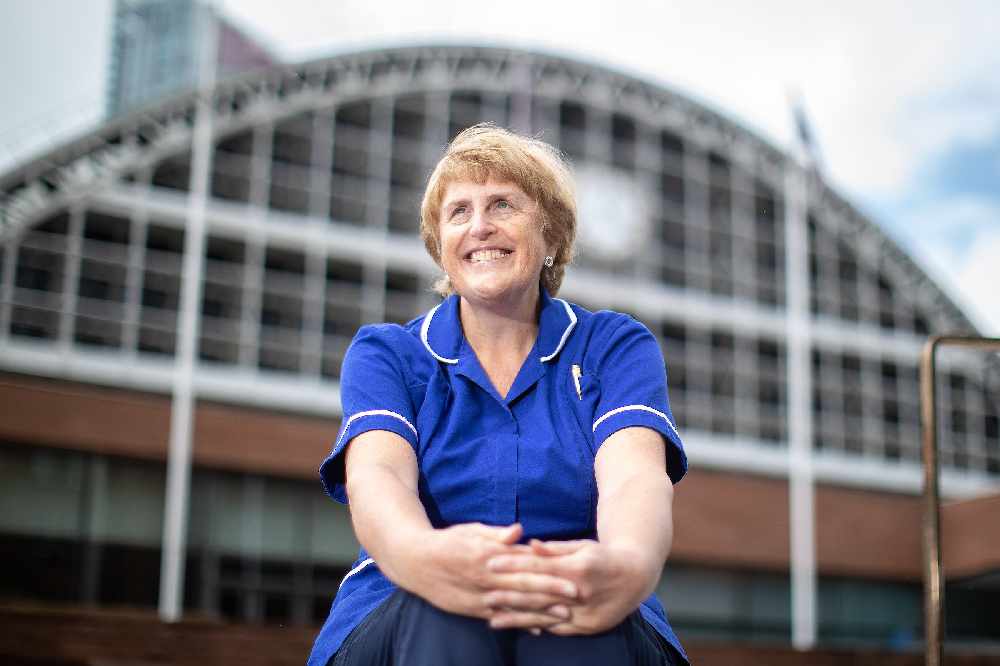 A few days ago, the last patient was discharged from the NHS Nightingale Hospital North West in Manchester.
A message from Professor Judith Ellis OBE, Family Liaison Team Lead, NHS Nightingale Hospital North West:
A few days ago, we saw the last patient discharged from the NHS Nightingale Hospital North West in Manchester. Nine weeks ago I returned from retirement to work at the Nightingale, originally joining to boost the frontline nursing numbers but within a week I had been asked to set up and lead a Family Liaison Team, based on a model established within Manchester Foundation Trust.
Our Nightingale team is made up of newly qualified Dentists and Dental Therapists who have approached the challenges that this role has presented with enthusiasm, compassion and dedication. The team's founding and fundamental purpose was to keep patients and families connected when positive Covid status prevented direct physical contact between patients and their loved ones but the teams role soon took on a far greater challenge.
All patients admitted had been affected by Covid, and although a small number sadly came to us near the end of their lives, the vast majority were admitted for intensive rehabilitation, with admission to the Nightingale freeing up vital capacity in acute hospitals. Caring for people recovering from Covid required far more than merely addressing physical recovery and waiting for that negative Covid swab that was a vital ticket for discharge.
As patients arrived on the Nightingale wards they were without exception exhausted, wary or indeed outright scared and for some it was even more upsetting. Staring into their eyes we observed a blankness that as a paediatric nurse I had only witnessed before in children who have undergone prolonged cancer treatment or indeed from child soldiers or those escaping war zones in low income countries. This look was first described to me many years ago by a hospital chaplain as 'soul death'. Still alive, the spark of life has disappeared. Soul death is allowing the sufferers to block out painful memories as a means of protection, allowing a perfusing numbness, an all-consuming desire to sleep and be unaware of the world around.
The scared, afraid and confused we can reassure, comfort and calm and indeed distract at times of added stress but, for those with that scary and somehow inhuman blank stare or who just continuously appear asleep, the challenge for the caring team is how to rekindle that spark. Rehabilitation is dependent upon a desire to recover, a desire to re-engage with the world, a desire to live. For families it is heartbreaking to see.
Families of our Nightingale patients had often last seen their nearest and dearest as an ambulance drove away and now their loved one had returned alive in body but not in soul, incomplete and broken. It was so distressing to observe relatives desperate attempts to re-find the whole person they knew prior to admission. They could not visit,
they could not hug or hold a hand and on the facilitated video calls their attempts to stimulate a response were so moving, humbling and yet inspirational.
We have over these weeks seen relatives pick up guitars and sing favourite songs, beloved dogs and cats have been brought on screen, virtual garden and house tours have been undertaken and children and grand children have been put on camera to show pictures or to chatter away with the enthusiasm of youth, thankfully unaware of the initial lack of response.
And bit by bit, step by step the majority of patients have emerged; waking when they have heard a loved ones voice, a spark of recognition as loved ones have appeared on screen, a nod of acknowledgement, a smile. Slowly patients have started responding to their names and requests for interaction, and the Family Liaison Team, nurses and whole multidisciplinary team have had the honour of being there with them.
They have made sure with family members input that above each bed there has appeared details of what is important to each patient, triggers for staff conversations, even if at first one way exchanges. Favourite music has been played from hymns to Eric Clapton, radio stations tuned in to and TV programmes accessed – soaps being the usual request.
Bingo and other games have been played with trophies awarded and each morning favourite newspapers and magazines provided as patients start to engage with, and take some interest in the world outside. Families have delivered photo's, mementoes and favourite foods and bit by bit in the vast majority of our patients the spark of life has returned. It has been so emotional but also inspirational and sometimes even miraculous for the whole Nightingale team to observe patients smiles, waves and often tears as they are clapped on their way.
Pictured - Professor Judith Ellis OBE, Family Liaison Team Lead, NHS Nightingale Hospital North West. (Credit: Joel Goodman)