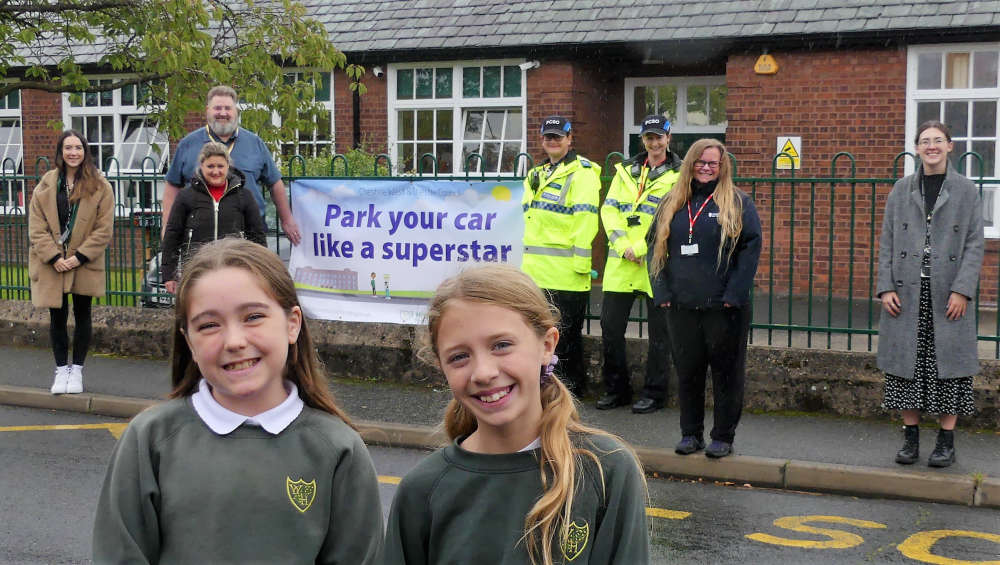 Pupils at Whitby Heath Primary School in Ellesmere Port have launched a new Parent Parking Charter to help alleviate parking problems outside the school gates and to encourage more active methods of travel for the school run.
The children have worked with the Council's Road Safety Team, local Police Community Support Officers and parents to develop the new charter, which will challenge the way people travel to school and alleviate problems caused by inappropriate parking.
This project is in addition to both the cycle and pedestrian training that has taken place at the school, to encourage parents and pupils to walk/cycle/scoot to school to improve their health at the same time as reducing the number of cars outside the school at pick up and drop off times.
The road safety initiative sees parents, drivers and school visitors make a pledge to reduce congestion and conflict outside school as well as raising awareness of parking safely on surrounding local roads.
The school is asking parents and local residents to use Wyedale and Clydesdale as a one-way system, particularly at peak times and to drive round in a clockwise direction. Also, not to cause an obstruction by parking on the junctions of Clydesdale or Wyedale making it difficult for drivers to see and turn.
The school ran a competition to find slogans for the four parking charter banners that are now displayed around the school. The winners were: Declan, 6B - 'Children are here don't park near!' and 'Park away from this school and be cool'; Leo, 1A - 'Park your car like a superstar' and Nazib, 6B - 'Don't park here stay clear!'
The Council's Cabinet Member for Environment, Highways and Strategic Transport, Councillor Karen Shore said: "Pupils and staff working with both Council and Police officers have looked at the issues outside school and have come up with rules and regulations to help alleviate the problems of parking at both entrances to the school. The slogans from the competition really get the message across, congratulations to all the winners and everyone who has worked on this parking charter.
"Parents or carers and visitors will be asked to sign a pledge to stick to all the rules set out in the new Parent Parking Charter. The aim is to see a safer environment outside the school gates for our children and neighbours, and to encourage more active methods of travel to get to school, which in turn will benefit all members of our community."
Pictured - From L to R: Front: Pupils Eva-Marie and Jessica from Whitby Heath Primary School; Back: Hannah Boult, teacher at the school; Councillor Peter Rooney, local ward member; Councillor Karen Shore, Cabinet Member for Environment, Highways and Strategic Transport; PCSO Wendy Dalton; PCSO Ellie Riste; Gemma Rhodes, Road Safety Officer; Sophie McLoughlin, teacher.