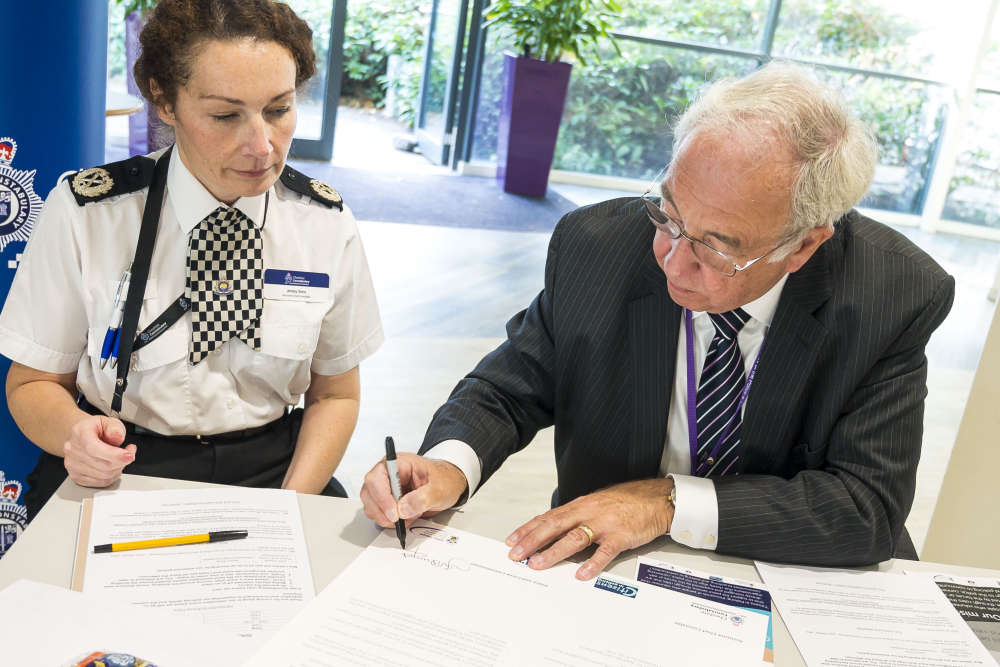 On Sunday 10th October, Police and Crime Commissioner for Cheshire, John Dwyer, and Assistant Chief Constable Jenny Sims welcomed police volunteers to a celebration event at Constabulary HQ, to reward their hard-work and dedication.
The event also marked the signing of a 'Volunteer Charter', outlining how the police will support volunteers going forward.
There are currently over 126 volunteers who provide support to Cheshire Constabulary and the Office of the Police and Crime Commissioner (OPCC).
They provide support for the cybercrime team, help to maintain, and facilitate the Policing Museum, providing advice and scrutiny through roles like the Independent Advisory Group, Custody Visitors and Dog Welfare Visitors.
John Dwyer, Police and Crime Commissioner, said: "Volunteers are valued members of the police family and without their support we wouldn't be able to deliver an effective police service.
"This event was important as it is vital for me to say thank you to the volunteers who give us their time. I am extremely grateful for their dedication and without their valuable contribution I wouldn't be able to fulfil my role as Commissioner."
During the celebration event, the Commissioner and ACC signed the 'Volunteer Charter' which outlines the commitment both he and the Constabulary will adhere to when connecting with communities, Citizens in Policing (volunteers) and the police.
Jenny Sims, Assistant Chief Constable, said: "It was a real pleasure to meet so many of our volunteers and to celebrate their achievements and contributions. Hearing the stories about their motivations and the many years of service they have given to Cheshire Constabulary and the OPCC really brought to life the breadth and depth of the experience our volunteers bring. The launch of our Volunteer Charter demonstrates our commitment to volunteers, and we look forward to many more opportunities to thank and engage with those who give their time in support of our vision to deliver even safer communities for the whole of Cheshire."
John Dwyer added: "Volunteering can be very rewarding, and I am humbled by the dedication of our volunteers.
"For anyone who would be interested in volunteering for the police, I'd encourage you to get in touch. We have opportunities available for you."
The Office of the Police and Crime Commissioner for Cheshire currently has the following volunteer opportunities:
Consultation volunteers
Independent Custody Visitors
More information about volunteering opportunities is available here:
https://www.cheshire-pcc.gov.uk/get-involved/volunteering/
Alternatively, you can contact pcc@cheshire.police.uk with the subject 'Volunteering Opportunities' and explain what you'd like to do. The Commissioner's Office can see if there are opportunities for you.
Pictured - Police and Crime Commissioner for Cheshire John Dwyer and Assistant Chief Constable Jenny Sims signing the volunteer charter.