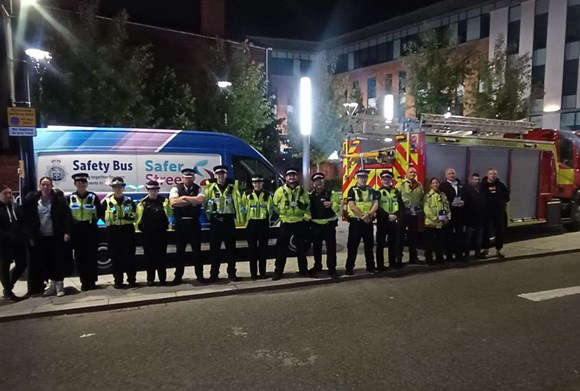 An operation has been launched across the county's busy towns and city centre, which has seen officers and partners ramp up their commitment to making people feel safe.
Operation Yellow Redeemed began on Friday 15 September with a number of officers and partner organisations taking to the streets of Chester City Centre, informing the public on what actions police are taking to keep people safe and encouraged people to download Hollie Guard, a personal safety app which can turn a smartphone into an advanced personal safety device.
With Hollie Guard, a simple shake of the phone enables the user to generate an alert, with the location, audio and video evidence of the incident. This is automatically sent to an emergency contact, via text and email.
Officers were also out issuing Hollie Guard Extra vouchers to those they believed could benefit from the enhanced version of the app – giving the user access to a 24/7 professional, police-approved monitoring team (via a control centre) who respond if they are in danger.
The operation continued across the county on Friday 22 and Saturday 23 September in Crewe, Congleton, Nantwich, Sandbach, Stockton Heath, Culcheth and Warrington Town Centre.
Throughout the operation, more than 200 vouchers for the enhanced version of the app were issued to members of the public.
The investment into Hollie Guard forms part of the wider Safer Streets initiative where the Police and Crime Commissioner for Cheshire, John Dwyer, secured £1.5 million of funding from the Home Office to roll out several innovative projects across Cheshire - including the partnership with The Hollie Gazzard Trust - to help keep people safe.
Inspector Cliff Goodwin, operational lead for Safer Streets and Operation Yellow Redeemed has expressed the importance of these initiatives and working with partners.
He said:
"Officers took to the streets, equipped with a state-of-the-art digital van and a Safer Streets safety bus, with a mission to spread the word about Hollie Guard, and work alongside partners to help identify anyone who would particularly benefit from the added security and protection that Hollie Guard extra brings.
"By working with our partners, including but not limited to Cheshire Independent Domestic Violence Advisors, Tomorrow Women, Story House, Motherwell, and Youth Zone, we are able to create safer streets for everyone in Cheshire, with a particular focus on the most vulnerable community members.
A recent incident proved the value of Hollie Guard Extra, where an alert was raised after a woman was approached by a man believed to have been sexually harassed and assaulted.
The woman fled the scene and alerted her Hollie Guard app and as a result the police-approved monitoring service guided her to a safe place and contacted police on her behalf. Officers swiftly attended and appropriately safeguarded the woman.
Inspector Goodwin added:
"We are committed to making Cheshire a place where everyone can walk the streets with confidence, knowing that help is readily available. This incident highlights why Hollie Guard is a great tool for the public to have at their fingertips to give them added protection and peace of mind. If anyone feels like they would benefit from Hollie Guard Extra, please contact your local policing unit and ask to speak to the beat sergeant or inspector who would be happy to discuss this with you."
Police and Crime Commissioner John Dwyer said:
"Protecting vulnerable and at-risk people is a priority in my Police and Crime Plan, so I'm really pleased to see more Hollie Guard Extra vouchers being distributed across Cheshire to people who can benefit from them.
"We have already seen how the app can make a real difference to people's safety and enhance the way that the police respond to incidents where it is used.
"If you could benefit from Hollie Guard Extra then please do get in touch with your local policing team."