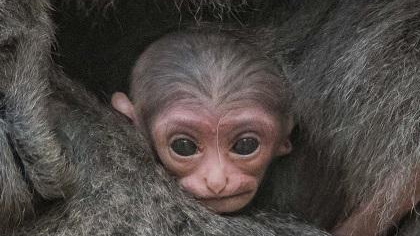 A rare baby gibbon is the latest addition to the "biggest baby boom of mammals" on record at Chester Zoo.
The silvery gibbon – a highly endangered primate – was born to mum Tilu (10) and dad Alven (19) on Wednesday (10 October) after a gestation of around 210 days.
The tiny pink-faced primate, which is much too small to be sexed and therefore named, is among an unprecedented number of new arrivals at the zoo this year. Other new additions include an Asian elephant calf, a black rhino calf, a sun bear cub, a greater one-horned rhino calf, an okapi and a baby West African chimpanzee.
A grand total of 733 mammals have been born so far in 2018, far exceeding the previous highest total of 566 in the same time period.
Mike Jordan, the zoo's Collections Director, said: "This new baby gibbon has arrived hot on the heels of a whole host of other important births. Indeed over the last few months we've witnessed a huge baby boom at the zoo – including the most mammal births on record.
"Silvery gibbons, as with the vast majority of the species born recently, face threats to their survival in the wild. Importantly, each new arrival is helping us to raise awareness of the issues they face and the conservation work the zoo is doing to try and protect them, as well as being a valuable part of their respective conservation breeding programmes."