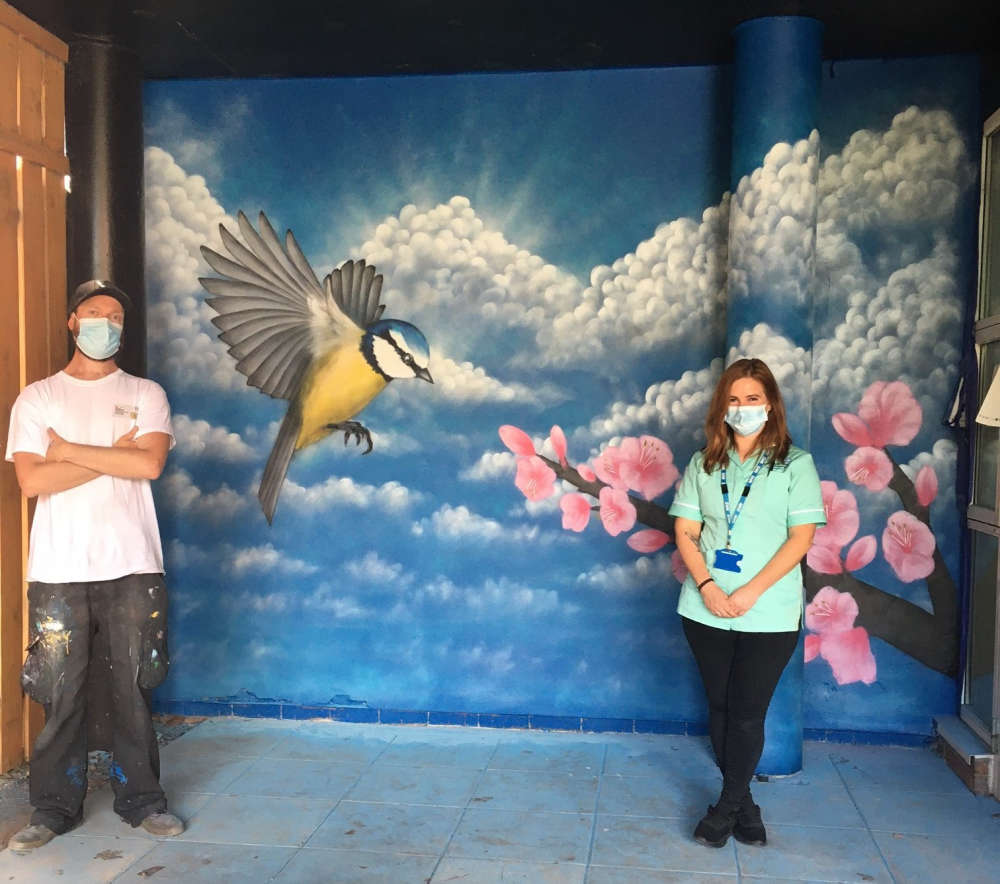 The power of nature and art to influence a person's wellbeing is now on display at a local NHS mental health hospital.
Cheshire and Wirral Partnership NHS Foundation Trust (CWP) has worked with Yorkshire-based artist, Sam Porter (aka Mural Minded), to give the courtyard area of Bowmere Hospital (in Chester) a facelift. The aim was to create an inspiring and uplifting environment for people receiving treatment on Willow Ward, the Trust's Psychiatric Intensive Care Unit.
Maria Yuen, lead occupational therapist at Bowmere Hospital, explains: "I am absolutely delighted with the mural on Willow ward. It has transformed a formerly dull area of the courtyard into a bright and inspiring space. Watching the art come to life was a really enjoyable experience for patients and staff, as the work took nearly a week to complete.
"We know that being around symbols of nature and being outside are good for mental health and hope this will be a really positive addition to the therapeutic environment for Willow ward, and we can enjoy for many years to come."
According to mental health charity Mind – spending time in nature has been found to help with mental health conditions including anxiety and depression. The artist chose blue tits in the mural as they are a symbol of hope.
There has already been positive feedback from people on Willow ward with one service user saying: "I love the flowers. It makes me happy when I look at it" and another explaining: "It's amazing. It has brightened up the atmosphere. If the environment is more pleasant, the experience on the ward is more pleasant."
Sam said: "This was the first time I'd ever done a mural for a hospital so it was an interesting challenge. Nature has the power to bring hope to people and so the thought of doing this for people with mental health conditions and NHS staff was something I was really keen to do. The patients loved it whilst I was putting it together. My work is often about bringing nature back to people, as it helps with your state of mind so I'm very happy with how this has turned out."
CWP associate director for specialist mental health Jo Watts said: "At CWP we are always striving to improve the experiences of people who access our services. This beautiful mural will hopefully provide comfort to those who are accessing Willow Ward, both staff and patients alike."
Pictured - Artist Sam Porter (left) with occupational therapy technical Instructor, Faye Edwards (right).