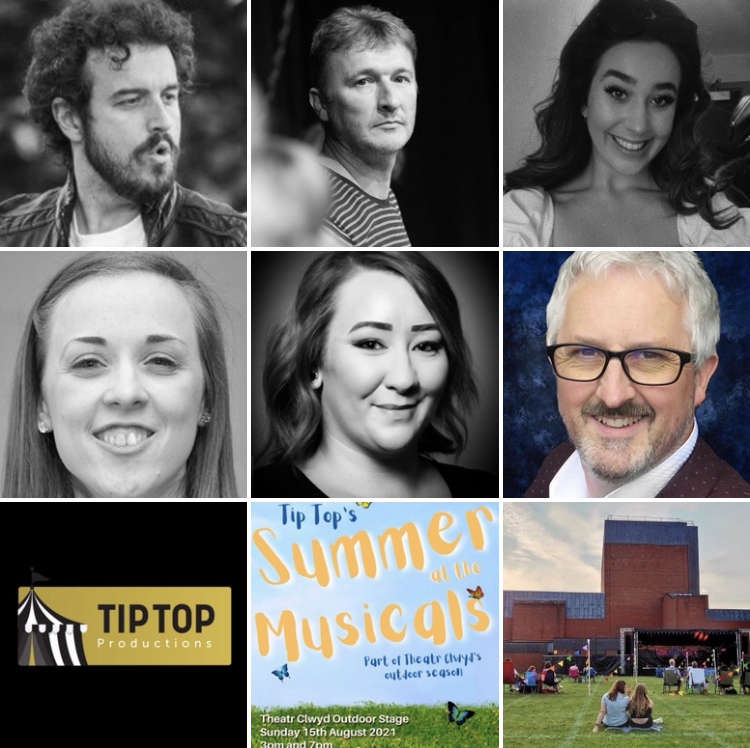 Final preparations are underway as a local theatre company prepares to make a welcome return to the stage following the lifting of lockdown restrictions.
Following on from the sell-out success of their previous show "Musical Magic", popular local theatre company Tip Top Productions, formerly based at The Forum Studio Theatre in Chester, will return to Theatr Clwyd near Mold for two special performances of a new show which is being staged as part of Theatr Clwyd's outdoor season of events.
The show "Tip Top's Summer at The Musicals" takes place on Sunday 15th August 2021 with performances at 3pm and 7pm and features songs from popular West End and Broadway Musicals performed by a cast drawn from Tip Top's talented performers including Brian Fray, Ellison Roberts, Laura Morris, Lee Randle, Mike Jenkinson-Deakin and Natalie Brett.
Audience members are asked to bring suitable portable camping seating or rugs, cushions etc with them so as to enjoy the unique atmosphere of Theatr Clwyd's outdoor performance space.
Speaking about returning to Theatr Clwyd for this year's outdoor season, the show's Director Steve Davies said " I'm thrilled to have the opportunity to invite such wonderful performers to the Theatr Clwyd open air stage. We have created a great set list that will introduce the audience to some new songs as well as reminding them of lots of 'old favourites' ". The show will include songs from much loved musicals including Oklahoma, The Sound of Music and Cabaret, alongside newer shows including Waitress, Bat Out Of Hell and West End and Broadway smash hit Hamilton.
Tickets for "Tip Top's Summer at The Musicals" are priced at £10 For full details and online booking go to:
Tickets are also on sale for "The Show Must Go On", Tip Top's return to the Theatr Clwyd indoor stage which runs at the Anthony Hopkins Theatre from Wednesday 27th - Saturday 30th October at 7.30pm with a Matinee performance at 2.30pm on Saturday 30th October. Full details can be found at:
Tickets can also be booked online.
Pictured - The cast of "Tip Top's Summer at The Musicals"