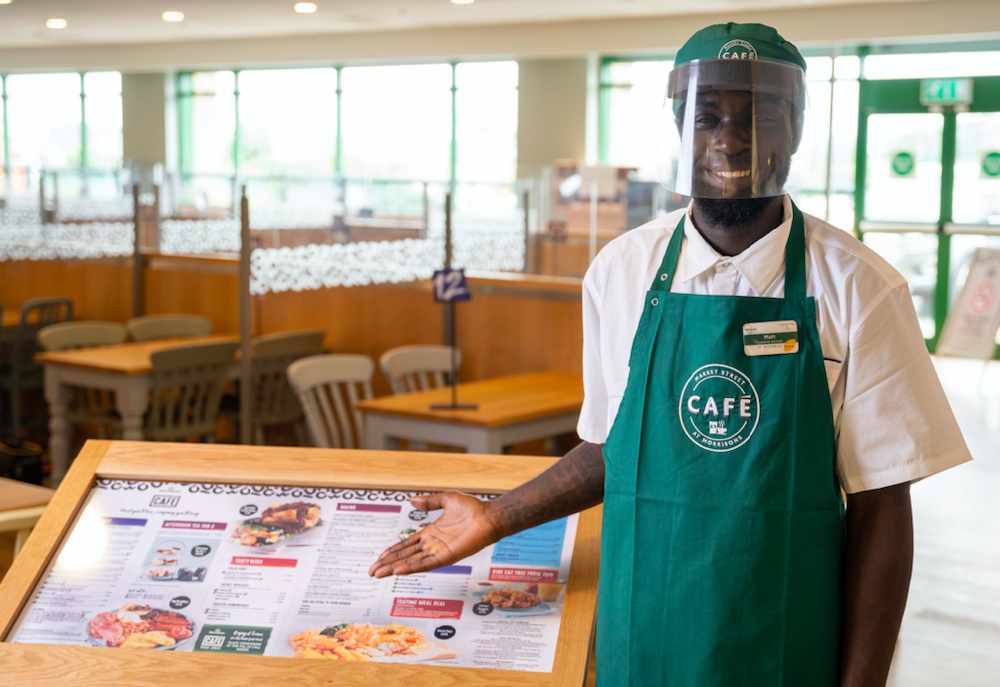 Morrisons is to open 320 cafes in England this Saturday with more competitive prices and social distancing measures to keep customers safe.
Morrisons is protecting customers by:
Investing in 11,000 freestanding perspex screens so customers can eat in neighbouring booths safely
Employing hosts in each cafe to take customers to tables that will either be protected by the screens or distant from other customers
Having hand sanitiser available at all times
Introducing helpful signage that helps customers to navigate their way round the cafe while sticking to the one-metre-plus rule
Prices of favourites such as Fish & Chips and the Big Breakfast will be reduced to encourage customers to visit the newly-opened Morrisons cafes.
A new menu includes traditional favourites at reduced prices. Fish & Chips will be reduced from £5.60 to £4.95. Morrisons' renowned Big Breakfast will now include a free cup of Yorkshire Tea.
For the first time there will be a takeaway bacon or sausage sandwich & hot drink deal for just £1.95 and all tea sold in the Morrisons cafe will be Yorkshire Tea from Taylors of Harrogate.
Ali Lyons Head of Cafe at Morrisons, said: "We intend to play our full part in feeding the nation and so our cafes will be safe and better value-for-money at this challenging time for customers. We look forward to serving them again from this Saturday."
#ItsMoreThanOurJob
About Morrisons:
Headquartered in Bradford since 1899, Morrisons is a British food retailer with more than 100,000 colleagues in 494 stores serving over 11 million customers every week. We are British farming's biggest supermarket customer and all Morrisons-branded fresh meat and everything on our butchers' counters is 100% British.
Foodmakers and shopkeepers at heart, we have over 9,000 trained butchers, bakers, fishmongers, cheesemongers and other skilled in-store specialists making more and more food in our stores.
Morrisons has its own sites making meat, fruit & veg, fish, bakery and fresh food products – 18 in all – and is unique in preparing and making more than half of the fresh food sold in our stores. Food manufactured in our sites and stores is showcased with 'Morrisons Makes It' branding.
Morrisons is becoming even more competitive by cutting prices on groceries and continuing to offer great value on good quality products. We tailor the offer of each one of our stores to local tastes and demographics. We also offer popular services including cafés, pharmacies, dry cleaners and over 300 petrol stations with further services being added all the time.