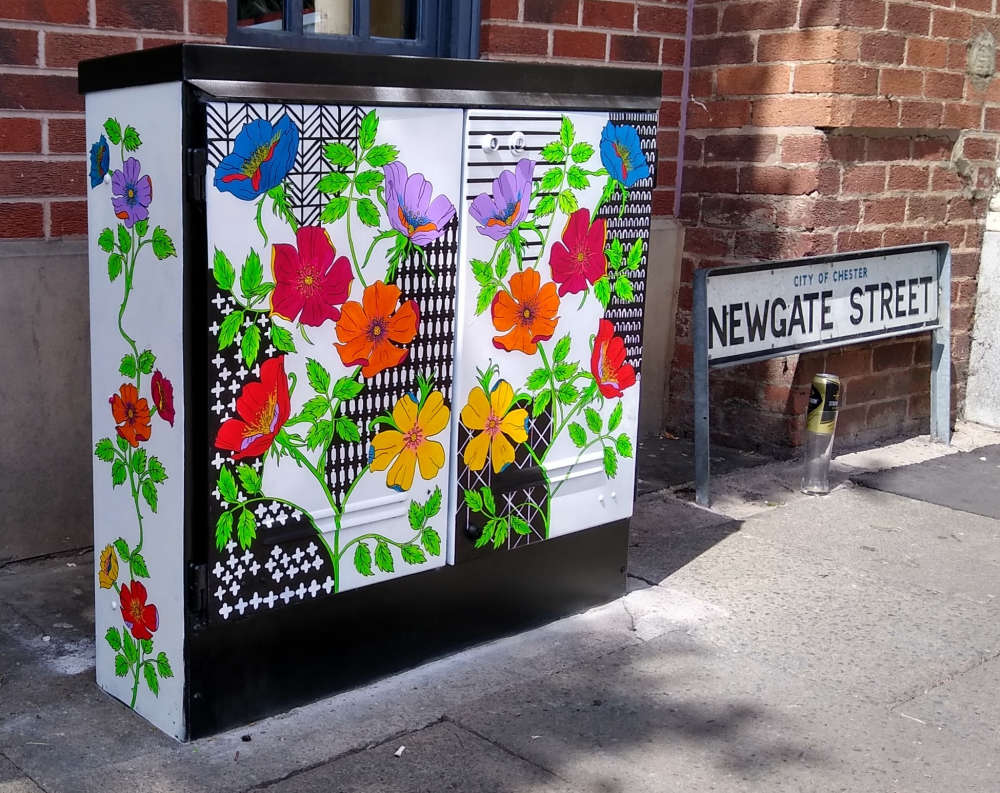 Eight new BT cabinets have been transformed into colourful murals within the city centre.
Chester BID had previously commissioned eight Cheshire artists to paint the murals with the theme of 'Chester Designed By Nature' and due to the popularity of the scheme, have extended this to sixteen in total. Each artist has interpreted the theme in their own way, delivering an array of unique, colourful artworks to be enjoyed by passers-by.
Local artists have led the contributions with many of them echoing the love of their city and region through their art.
Luka Morrell, Business Engagement Manager, Chester BID said: 'We're delighted with the popularity of the mini-murals – it is a small local initiative that has achieved an unexpected buzz within the city centre.'
'It's so important that we get the experience of Chester right for both resident and visitors. This means working hard to get the basics right - cleaner streets, safe lighting and then the icing on the cake is initiatives like Chester in bloom and these mini-murals which go a long way in elevating the city experience further.'
The Mini-Mural locations can be found here.
About Chester BID Company
A Business Improvement District (BID) is a business-led, business-funded body created to improve a defined commercial area. Chester BID is funded solely by the businesses within the city.
There are over 460 businesses in Chester's BID area with a rateable value of more than £18,000. Each of these contribute a levy equal to 1% of their business rates every year to fund a wide range of improvements identified by the businesses themselves. It is expected that approximately £2.5m of private sector funds will be generated over the five-year BID term and this money will be reinvested back into the city centre.
In June 2019, hundreds of businesses voted in favour of the plans to renew the BID's term in Chester and on September 1st, 2019, Chester BID Company started a second five year-term with the intention of continuing to deliver a more vibrant and successful trading environment for Chester city centre.
For more information, visit: