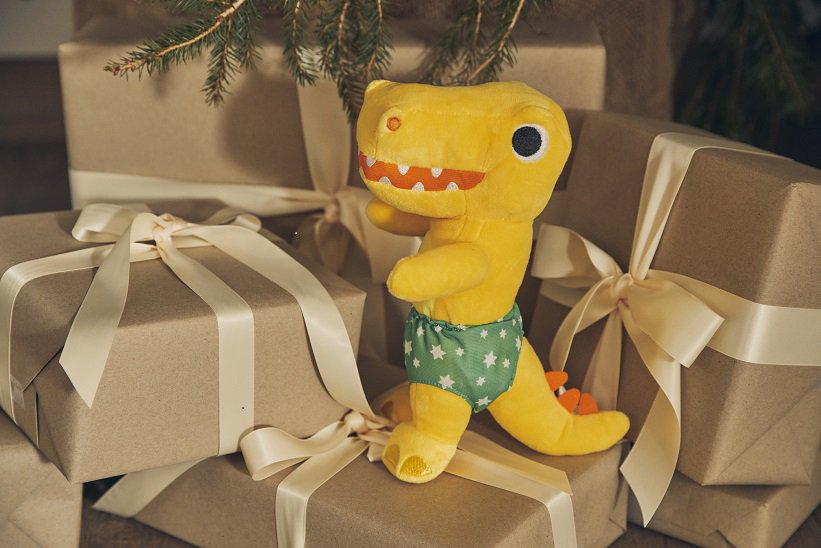 Just in time for Christmas, Matalan has created a soft toy of the NSPCC's Talk PANTS campaign mascot, Pantosaurus.
The friendly pants-wearing dinosaur has helped over a million parents talk to their child about keeping safe from sexual abuse, and explaining – in age-appropriate language and a catchy song - how their privates are private.
This Christmas, Matalan is supporting the campaign by releasing an exclusive cuddly version of Pantosaurus, to help parents start that important conversation with their child. Half of the profits from the sale of the cuddly dinosaur will also go directly to the NSPCC.
Matalan is one of the NSPCC's longest-running partners and has raised more than £10.7m for the charity to date, from in-store fundraising activities, charity balls, and employee fundraising including marathons, skydives and more.
Since 2015, Matalan have sold NSPCC merchandise in their stores and the charity's latest products – including shopping bags, badges and keyrings, colouring books, crayon sets and lunch bags with 100% of proceeds from these areas going directly to the children's charity.Jeff Howarth, director of marketing for Matalan, said: "We love the new NSPCC Pantosaurus toy, and we're sure our customers will too.
"We're proud to have such a long-running and successful partnership with the NSPCC. We're sure Pantosaurus will be a firm favourite this Christmas. Helping raise money to support children and young people across the UK is more important than ever."
Tess O'Callaghan, NSPCC Fundraising Manager, said: "The plush Pantosaurus looks great, and proceeds from it and the sale of our bags, books and crayon sets will go towards helping young people who need it most, so we're hugely grateful to everyone who picks up a treat while Christmas shopping this year."
Founded in 1985, Matalan's mission has always been to give families outstanding quality at outstanding prices. 12 million UK families each year trust Matalan with their family budgets - to provide the range, style, quality and value that enable them to run a happy family home.
As of September 2020, Matalan has an impressive 228 UK stores and 36 International franchise stores within Europe and the Middle East, supported with a rapidly growing online channel.
With increased lockdowns happening and the Christmas holidays approaching, the NSPCC expects demand on their services to increase, and want to make sure no child is left to cope alone.
The Pantosaurus soft toy costs £7 and is available to buy online and click and collect, and will also be making a debut appearance in Matalan's Christmas TV advert, so stay tuned!
Throughout the pandemic, the NSPCC has ensured it is still here on the front line for children, supporting those who need Childline and our other services most.
To find out more, including how you can help the NSPCC and Childline, go to www.nspcc.org.uk
The NSPCC's Talk PANTS campaign helps parents and carers have vital conversations with the children in their life in a simple and age appropriate way. Currently, the campaign has already helped 1.4million parents.
To make it easy for children to remember we encourage you to use the PANTS acronym: Privates are private, Always remember your body belongs to you, No means no, Talk about secrets that upset you and finally Speak up, someone can help.
About the NSPCC:
The NSPCC is the leading children's charity fighting to end child abuse in the UK and Channel Islands. Using voluntary donations, which make up around 90 per cent of our funding, we help children who've been abused to rebuild their lives, we protect children at risk, and we find the best ways of preventing child abuse from ever happening. So when a child needs a helping hand, we'll be there. When parents are finding it tough, we'll help. When laws need to change, or governments need to do more, we won't give up until things improve.
Our Childline service provides a safe, confidential place for children with no one else to turn to, whatever their worry, whenever they need help.
Our free NSPCC helpline provides adults with a place they can get advice and support, share their concerns about a child or get general information about child protection.