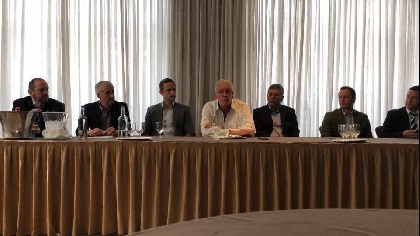 The identity of the man looking to make a 'substantial' donation to Chester FC has been revealed.
Local Businessman, Stuart Murphy (pictured centre), says he's "thrilled to be able to help Chester FC" and wants to give something back to the city.
Any funds that the founder of Exacta, former Chester FC stadium sponsor, puts in would not be for the first team playing budget.
It will be invested into infrastructure and maximising revenue streams which is an essential in helping the club become self-sufficient.
Over £100,000 has been raised by fans and other supporters since January after the Blues reported that they were close to running out of money.
That is a situation which Stuart Murphy said "should never happen again" with the amount of cash he plans to pump in.
But he insists he wants nothing back in return both in financial terms and involvement at the very top of the football club, he said: "Chester's been very kind to me over years, still have a head office here and started a business 20 years ago. I've decided that I need to put something back in the city."
"It is not a profit making business, I'll take no control of the club, have no ownership or shares, nothing. It [the donation] is just there to bring Chester City back to where it was."
The two parties have already had discussions about how best to spend the cash. At Thursday evening's press conference it was revealed that the potential to install a 4G playing service at Chester's home ground is an option.
Other National League sides like Sutton United have an artificial surface which is hired and used by the community when there isn't a first team home match.
Other discussions of how to best make use of the stadium will also be had going forward including the possibility of hosting wedding ceremonies.
The exact amount of donation and length of the agreement cannot yet be revealed due to legal reasons but it is hoped the arrangement will become official before the end of May.
You can watch the full press conference and hear everything that was said on our facebook page.