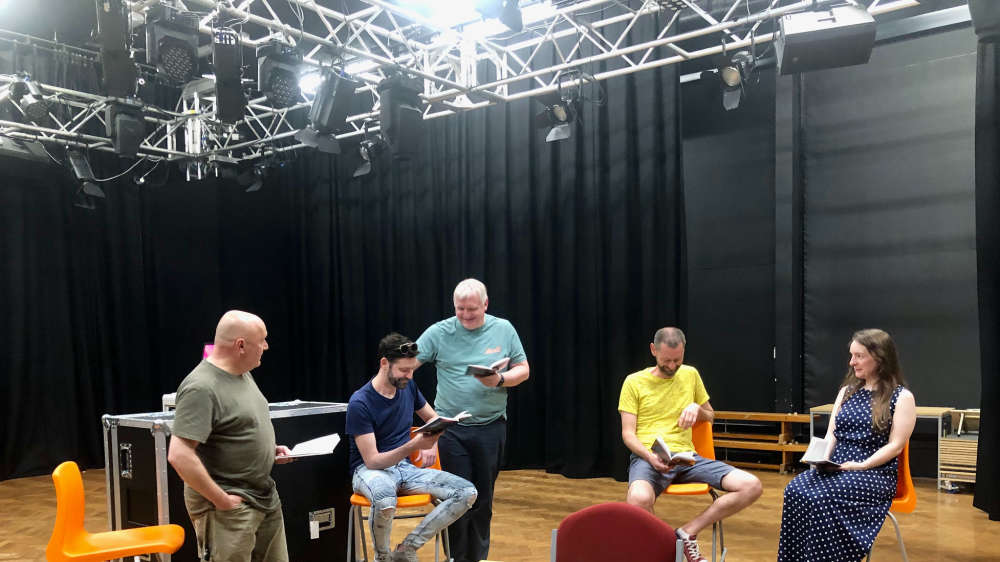 Rehearsals are underway as a local theatre company prepares to bring a play with a spooky flavour to the stage in Chester.
Chester-based theatre company Against The Grain are set to stage "The Weir" by Conor McPherson at The Live Rooms in Chester from Tuesday 9th August to Thursday 11th August at 7.30pm. The play marks a welcome return to the popular city centre venue for the company, which previously staged of co-founder Mark Newman's twisted comedy "Mr Dumpling" at The Live Rooms last year.
Following on from the success of "Mr Dumpling", members of Against The Grain were mostly recently seen on stage in Chester Little Theatre's production of "Glut!" a brand-new play by local writer Jan Bengree and prior to lockdown, several members of the company also appeared in the Little Theatre's acclaimed production of "The Ladykilers".
"The Weir" is set in a small pub in a remote part of rural Ireland where, over the course of an evening, locals gather to sit, drink and tell tall tales. Their comfortable routine is disturbed by the arrival of an attractive newcomer with her own eerie tale to tell. Written in 1997, the play was first staged at London's Royal Court Theatre before transferring to Broadway. It won an Olivier award for best new play in 1997 and was voted one of the most influential plays of the 20th Century in a poll conducted by The National Theatre. The play will be directed for Against The Grain by Marian Newman.
Cast members Mark Newman, Stuart Evans, Dhugal Fulton, Simon Phillips and Laura Smith recently joined Marian Newman for a first read-through of the script as rehearsals got underway.
Speaking about staging the play, Marian said "Most of us love a good story, it's the reason we go to the theatre, to be entertained by a good yarn. "The Weir" offers us just that - a group of friends and a welcome stranger who engage in friendly banter in the pub and tell stories to impress, to spook and to reveal things that make them the people they are. We chose to produce "The Weir" because it's a beautifully written play about ordinary people who have experienced something extraordinary and have their tales to tell. We are very much looking forward to returning to The Live Rooms following the positive reception for "Mr Dumpling", our previous production at the venue last year".
Full details of "The Weir" can be found at:
...where tickets can be booked online.
Pictured - The cast of "The Weir" in rehearsals for the play which will be staged at The Live Rooms in Chester.