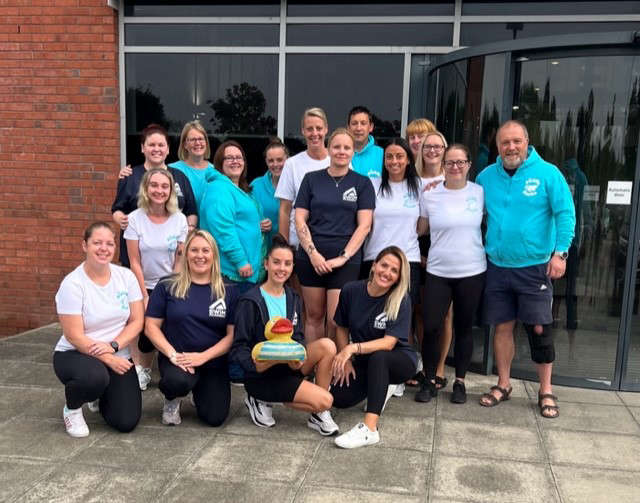 Local swim school, Puddle Ducks Chester, Wirral & North Wales are celebrating their 16th successful year in business, providing swimming lessons to children across the area.
Led by owner, Jay Nash, the business has grown to considerable success and popularity over the last 16 years, now with 32 employees teaching 1200 children and 210 lessons across 12 pools every week.
Puddle Ducks Chester, Wirral & North Wales weathered the challenges faced during the COVID pandemic, thanks to loyal customers and a team that stayed together, quickly getting back up to speed and returning to a normal service as soon as it was possible.
Providing classes for babies and pre-schoolers right through to Swim Academy for school-aged children, Puddle Ducks Chester, Wirral & North Wales have no plans to slow down.
Jay commented:
"This anniversary is a real testament to our great teachers and customers who have supported us throughout the years and helped us to build a strong reputation of Puddle Ducks being the highlight of their family's week".
Jay continued:
"As we look forwards to the future and as the business grows, our aim is to continue using the latest techniques and ensure our teaching standards remain high. Children are at the centre of what we do, and we want to continue providing a fantastic experience to suit every child's needs."
The swim school takes an innovative approach to swimming, employing highly trained teachers who can identify a child's level of ability and adapt lessons and activities accordingly. Puddle Ducks also has small class sizes and incorporates rhyme and movement based on extensive child development research. Through these techniques, they can nurture confidence and encourage natural swimming ability.
Recently Puddle Ducks Chester, Wirral and North Wales have added on lots of new sessions to their timetable to increase availability for new swimmers to join Puddle Ducks, due to the ever-growing demand in both the Baby and Pre School Programme (for birth up to 4 years old) and Swim Academy lessons (4 year olds – 10 year olds.)
For more information on Puddle Ducks Chester, Wirral & North Wales, and where they swim, call:
01829 740825
...or visit
https://www.puddleducks.com/local-teams/chester-wirral-north-wales
Pictured - The team at Puddle Ducks Chester, Wirral & North Wales, celebrating a 'sweet sixteen' years in business.