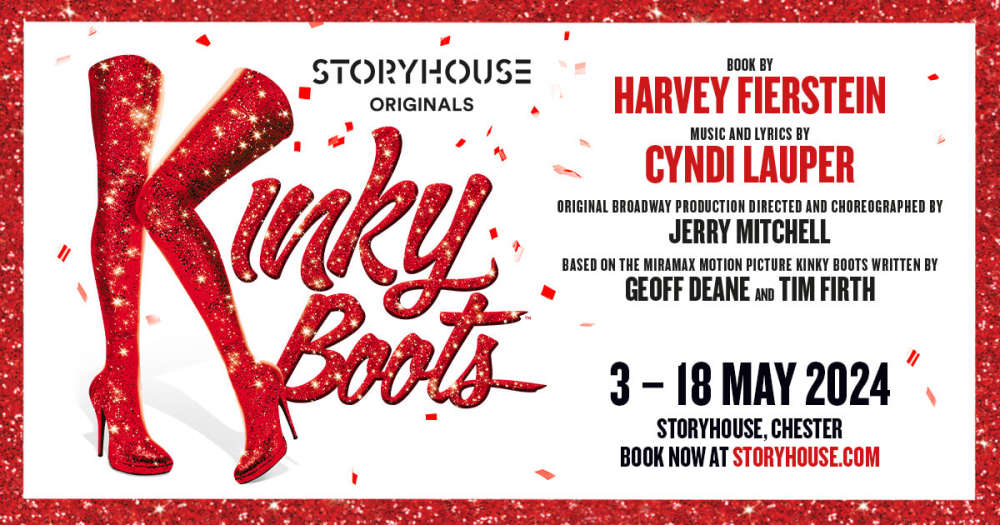 Prepare to be dazzled and uplifted as the international sensation, KINKY BOOTS struts onto the Storyhouse stage, spreading its message of empowerment and acceptance.
With a Tony® and Grammy®
winning score by the iconic Cyndi Lauper, a
nd
book penned by the brilliant Tony
®
winner Harvey Fierstein
KINKY BOOTS
is set to captivate
Chester
audiences like never before.
Based on the beloved Miramax motion picture
Kinky Boots
written by Geoff Deane and Tim Firth
(
Calendar Girls
)
, this heartwarming musical has transcended borders, inspiring people from all
walks of life
to embrace their individuality and stand proud. The show's global success has been a testament to the enduring power of acceptance and the belief that we can change the world simply by changing our perspectives.
C
harlie Price inherits a suffering shoe factory. Following a meeting with drag queen Lola, Price starts embracing a more flamboyant business model. Together, they embark on a journey that defies convention, discovering the true power of self-expression and the strength that comes from embracing one's authentic self.
Suzie Henderso
n
, Creative Director of
Storyhouse
said
Don't
miss your chance to experience the magic of this sensational production,
we are thrilled to be producing this
for
audiences in
Chester!
This jubilant production is a vibrant reminder to celebrate life triumphantly, to be unapologetically you, and to understand that our differences are our strengths. With its infectious music, unforgettable characters, and spectacular choreography, "KINKY BOOTS" is a call to unity and acceptance.
Find out more and book at:
Members sale until 20 September 2024
.
Storyhouse is a charity. Our home in Chester incorporates a library, theatres, an independent cinema, a restaurant, and is a community and creative social space.
Each year we run over 2,000 sessions for marginalised communities, including our vibrant festivals co-curated with our communities including Storyhouse Queer, Storyhouse Childless, Storyhouse Women, Kaleidoscope for learning disabled and neurodiverse adults and the Chester Literature Festival and WayWord children's literature festival
.
Our theatres present a mix of Storyhouse Originals (produced by us, in house) and the best of the UK's touring work, including comedy, musicals, music, workshops and talks. Beyond Storyhouse we produce Grosvenor Park Open Air Theatre in the city's park and Moonlight Flicks open air cinema
.
Storyhouse Cinema screens 3 films a day, handpicked by us in partnership with many of our communities
.
Our library has the longest opening hours of any UK public library. We welcome over eight thousand visits a week. Everything we do is designed with our audiences and creative communities, creating a vital social space in the heart of the Chester for everyone
.
Hunter Street, Chester, CH1 2AR.