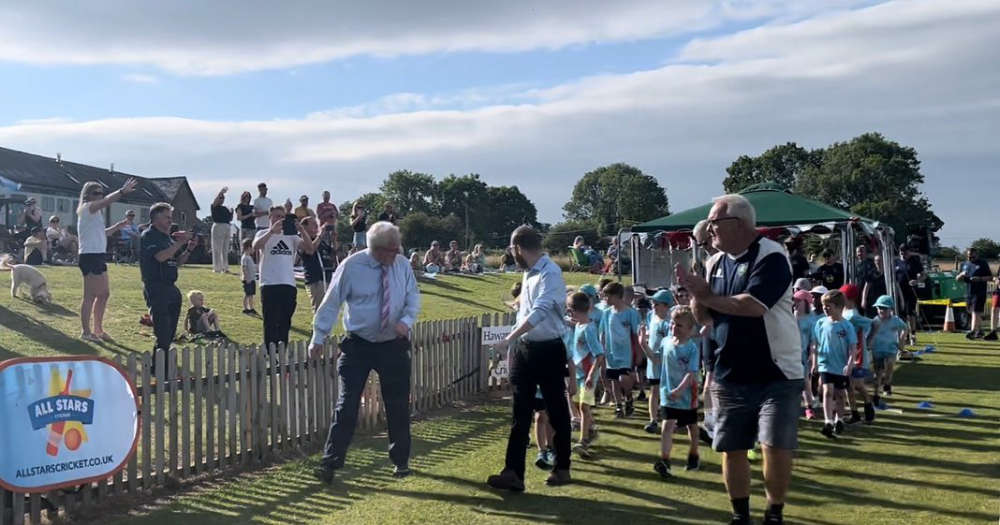 Alyn and Deeside MP Mark Tami was delighted to launch Hawarden Park Cricket Club's Big Challenge at the weekend with Jack Sargeant MS.
The club took on the task of walking the distance between their Moor Lane base and Lord's cricket ground and back in a non-stop, 48-hour relay. They set themselves the challenge of racking up the 370 miles between 6pm Friday and 6pm Sunday to raise money for their new pavilion.
Mark Tami and Jack Sargeant lead the first lap of the ground along with Hawarden Park Cricket Club chairman Richard Penney and children from the All Stars team.
"It went brilliantly and we were pleased to have Mark and Jack join us," said vice chairman Craig Wilson.
"Over the whole challenge we had between two and three hundred members take part. We had the flood lights on at night and some of us camped at the ground to make sure that the walking was continuous.
"We finished ahead of schedule in the early hours of Sunday morning, so we decided to add on the distance between Moor Lane and Old Trafford cricket ground too – another 80 miles.
"We've raised more than £4,500 so far and our donation page is still open. More than the money, one thing the event achieved was to bring the club even closer together."
Even a severed achilleas tendon didn't stop Craig supporting the club by putting in four laps over the course of the challenge.
Mark Tami said: "Jack and I have been following the club's pavilion plans for some time, helping where we can. It's clear that the club management have already achieved their aim of a sporting, sociable hub for all ages to get together and enjoy a sense of community.
"The pavilion will provide the facilities the club deserves."
To donate please go to:
https://localgiving.org/charity/hawarden-park-cricket-club/
Pictured - Mark Tami, Jack Sargeant and Richard Penney.