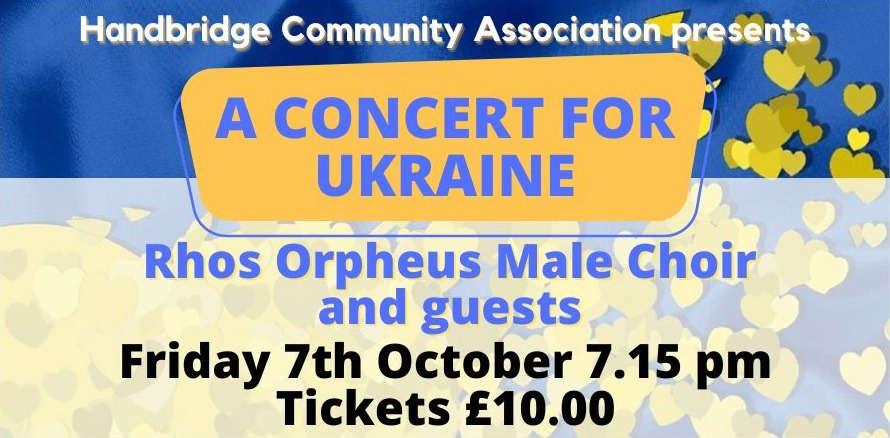 Handbridge Community Association are delighted to present A Concert for Ukraine, an evening of musical entertainment on Friday 7th October, 7.15pm, at St Mary's Church Handbridge.
Everyone is welcome at this community event where the Rhos Orpheus Male Choir will be joined by special guests; Sophie Clark, mezzo-soprano and Kings School pupil Adele Bracegirdle, flautist.
Tickets are £10 each and just £1 for Ukrainian guests and refugees from any location (with suitable id) with all proceeds going to the Ukraine Humanitarian Appeal.
Richard Huxley, Concert Secretary of the Rhos Orpheus Male Choir said 'We would like to thank the Handbridge Community Association and St Mary's Church for inviting us to perform at this important event in this the choir's 65th Anniversary Year. We have a long and proud history of supporting charities and this autumn we will also be performing for Tenovus – Wales's leading cancer charity, Blood Bikes Wales and for the Hospice of the Good Shepherd. We're looking forward to performing in Handbridge in what is a beautiful setting and being joined by some very talented solo artists.'
Steve Hart, Chair of the Handbridge Community Association said 'We're delighted to support this event and looking forward to an evening of musical entertainment in aid of such a worthy cause.'
To purchase tickets visit:
https://bit.ly/HandbridgeConcertForUkraine
...or call Jonathan on:
07903 935115
...or Richard on:
07528 259087
Follow us on Facebook:
...to find out more.