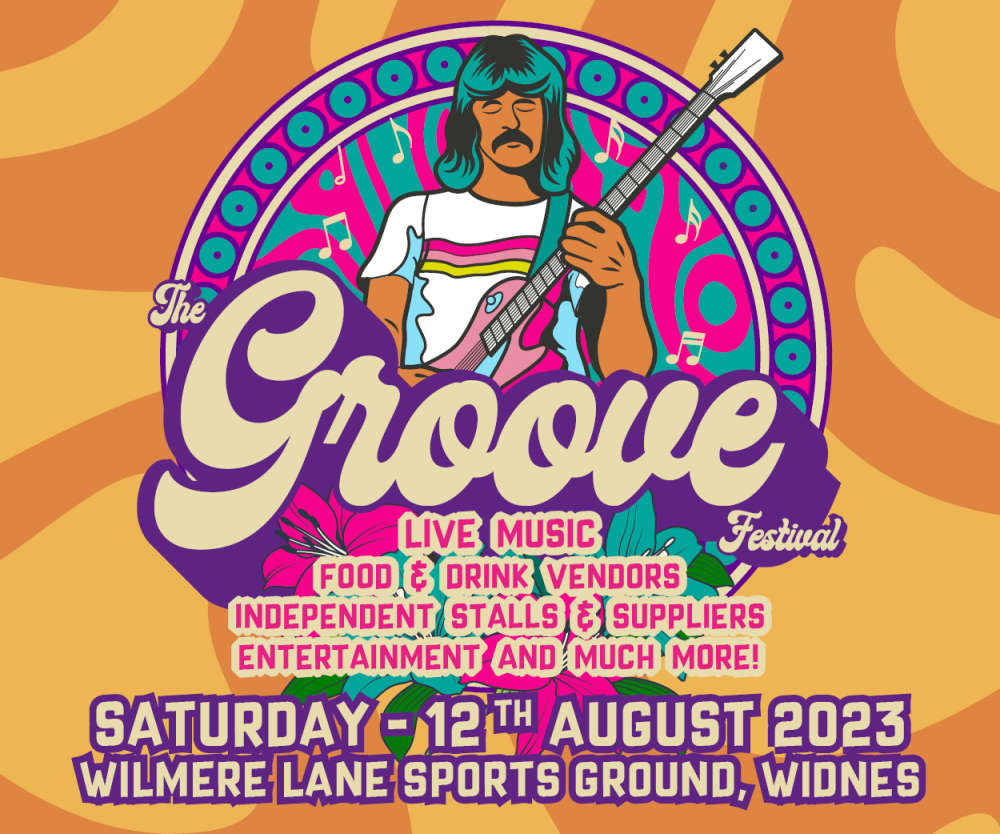 The Groove is a one-day festival paying tribute to some of the greatest acts of all time. Killer tunes from ABBA, Fleetwood Mac, Elton John, Queen, The Beatles, and so many more. The event is being organised to raise money for the Roy Castle Lung Cancer Foundation.
Dig out your flares, your platform shoes and your denim shirts, because it's time to Get Back to the 60s, enjoy the Super Troupers of the 70s, and go Radio Ga Ga for the best of the 80s, as Widnes will be hosting a fantastic festival of favourites this summer – and you can Go Your Own Way without having to splash out too much Money, Money, Money!
The Groove is a one-day event featuring some of the finest tribute acts in the UK, led by ABBA Revival, Forever Queen, Totally Elton, and Seven Wonders, covering classics from Fleetwood Mac. The Fools on The Hill belt out the best of The Beatles, and The Get Back Beats will surely have everyone up and dancing to the best-loved pop and rock tunes of the era.
This amazing event is being staged by Roy Castle Lung Cancer Foundation, at Wilmere Lane Sports Ground, on Saturday 12th August. It will run from midday to 11pm, so aging Rocket Men and tired Dancing Queens can get home in time to put their feet up!
There will be food and drink outlets with local suppliers offering tasty treats, including Italian gelato and ice cream, and a bar supplying quirky cocktails. Stalls in site will include independent makers and creators, with UV facepainting, hair braiding and rock-chic make-up to round off the authentic festival vibe.
Parking will be available on-site while local rail and bus services are handy for the site.
"We're thrilled to be bringing The Groove to Widnes this summer," said Rosie Morgan, events fundraising manager at Roy Castle Lung Cancer Foundation.
"We've got an incredible line-up of tribute acts that are sure to get the crowd rocking, and we can't wait to see everyone come together for an unforgettable day of music and fun."
''We're all really excited. Times have been tough for many of us, so it's great to have something to look forward to. Where else could you see and hear all the greatest hits of legendary artists such as ABBA, Sir Elton John, Fleetwood Mac, Queen and The Beatles – all on the same day?
"It's going to be something really special, and – even better – it's all for a really special cause too.
"We're proud of the work we do, but it's all down to the amazing support we get from people who take part in our fund-raising activities and events. That's why we're so pleased to be launching The Groove; a great fun day out that will help us help everyone affected by lung cancer. So, if The Groove proves a massive success, it will really help us save lives. What could be better than that?''
To apply for tickets for The Groove just:
The Foundation has invested many millions of pounds into research into the early detection of lung cancer, played a major role in the introduction of the ban on smoking in public places and is supporting the NHS in its programme of Targeted Lung Health Checks which are saving lives.
Founded by chest surgeon Ray Donnelly in 1990, the charity took its present name following the death from lung cancer of entertainer Roy Castle. Roy, his wife Fiona and their family, gave selflessly to raise public awareness of the disease and funds to back scientific research into it.
We are the only UK charity wholly dedicated to supporting people affected by all forms of lung cancer.
What: The Groove - a fab-tastic one-day festival paying tribute to some of the greatest acts of all time. Killer tunes from ABBA, Fleetwood Mac, Elton John, Queen, The Beatles, and so much more.
Venue: Wilmere Lane Sports Ground, Widnes WA8 5UP
When: Saturday 12th August, Doors open 12 – 7pm, event finishes 11pm