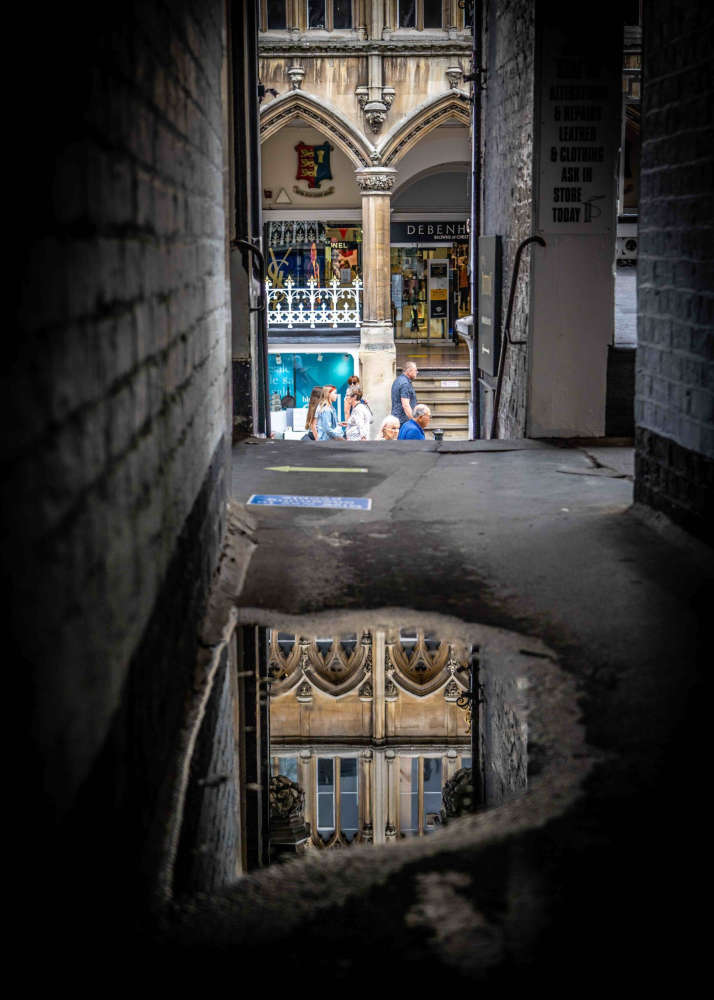 Chester's historic Rows are about to be brought to life through Flash Fiction.
Join David Gaffney, master of the flash fiction format for a practical flash writing workshop on Saturday 1 October, 1pm to 4pm at Storyhouse. Tickets are £5 (booking: https://www.eventbrite.co.uk/e/flash-fiction-workshop-with-david-gaffney-tickets-424993987457 )
The workshop will talk about the process of writing effective stories in less than 500 words. Filled with fun, practical exercises, you'll learn how to transform 1000 words into 150 without losing power, character detail, plot and dialogue. You'll leave with the tools to be able to write fantastic flash fiction. Then share your new stories about the Chester Rows.
Chester Refresh is a programme of new arts and culture for Chester. They want to see new flash fiction (very short stories) inspired by Chester's Rows.
Councillor Louise Gittins, Leader of Cheshire West and Chester Council said: "This is a really creative challenge, can you write a story between 100 to 250 words? This could be about experiences, feelings, stories that are real or imagined but featuring the Rows in some shape or form.
"The new flash fiction will help to bring a new life to the Rows, seeing them through many different eyes."
Historic England's Pippa Brown said: "Our heritage means something to us because it's part of the story of who we are and where we come from. Like us, it's always evolving. We can't wait to see people's latest creative ideas sparked by Chester's fabulous Rows."
'Extra' by Peter Blair, Senior Lecturer in English at the University of Chester is an example of Rows-inspired flash fiction in just 95 words.
So I'm shopping on the Rows and I see one of those clipboards coming towards me and I'm trying to avoid the eyebeams when a voice says Hollyoaks and I stop. Next thing the make-up artist is powdering my face and someone's patting my hair, while the wardrobe woman looks me up and down, nods, and hangs a posh carrier from my hand. I sign a release form and I'm off, walking the planks of the suspension bridge, again and again and again, looking straight ahead like I'm going somewhere, and trying not to smile.
Short stories can be submitted by Friday 21 October to: info@chesterrefresh.org. along with your name and contact details, and Chester Refresh will publish their favourites here:
The stories may also go on to be printed and distributed on postcards around the Rows, others may be used to illustrate a new exhibition 'On Another Level: Exploring the Historic Rows of Chester at the Grosvenor Museum (15 October to 30 April) and some could be included at a special event at Storyhouse as part of the Chester Literature Festival. Authors will be informed if their story has been chosen.
Flash Fiction on the Rows is part of the Chester High Street Heritage Action Zone Cultural Programme, funded by Historic England and the National Lottery Heritage Fund, supported by Arts Council England.
About High Streets Heritage Action Zones
Historic England is working with local people and partners through grant funding and sharing our skills to help breathe new life into high streets that are rich in heritage and full of promise - unlocking their potential and making them more attractive to residents, businesses, tourists and investors. The scheme, backed by government funding, aims to help with the recovery of local high streets from regenerating historic buildings to helping to engage local communities through art and cultural projects.
High Streets Heritage Action Zones
About Historic England
We are Historic England the public body that helps people care for, enjoy and celebrate England's spectacular historic environment, from beaches and battlefields to parks and pie shops. We protect, champion and save the places that define who we are and where we've come from as a nation. We care passionately about the stories these places tell, the ideas they represent and the people who live, work and play among them. Working with communities and specialists we share our passion, knowledge and skills to inspire interest, care and conservation, so everyone can keep enjoying and looking after the history that surrounds us all.