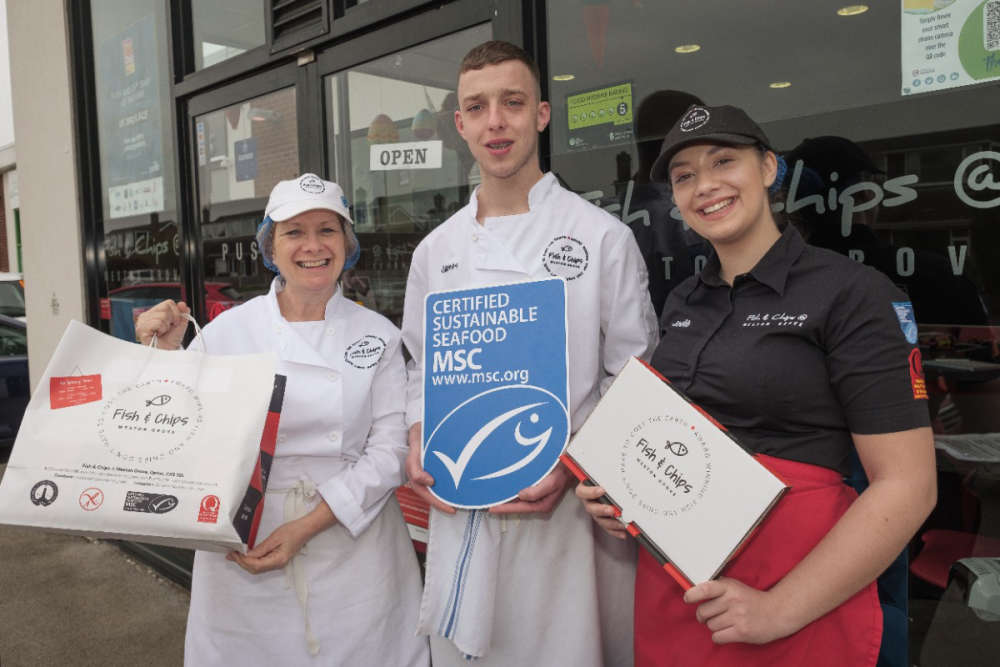 Fish & Chips at Weston Grove, in Chester has been named a regional hero by the Marine Stewardship Council (MSC) for 'going above and beyond' to put sustainability at the heart of their business.
Seafood lovers can now, for the first time, easily find their nearest fish and chip shop serving sustainable seafood from a new digital list launched by the MSC UK today, as a celebration for Sustainable Seafood Week.
During Sustainable Seafood Week, which runs until September 24th, consumers are being urged to choose seafood products with the blue MSC ecolabel on and this includes MSC certified fish and chips. The label means the consumer can trust where the fish or seafood has come from while ensuring there will be plenty of fish left in the sea for future generations.
Richard Foster, from Fish & Chips at Weston Grove, in Chester, was a potato merchant for 30 years while his wife and business partner Josette worked in education. Josette's grandparents had run a chippy in a village near York, so when they bought Weston Grove in 2016, it was great to "keep up the family tradition", she says. They are proud to serve sustainable cod and haddock from Icelandic waters.
Josette Foster of Fish & Chips at Weston Grove said:
We feel extremely honoured to be asked. It means so much to us to be able to promote the importance of only using sustainably sourced fish. When it is brought to a local level it makes an understanding of MSC more accessible. As a child in 1979, I used to watch and read 'Life on Earth' by David Attenborough. As time went on I became more and more concerned about the damage we were doing to the planet. I used to teach hospitality management focussing on the importance of sustainability. When we bought Weston Grove I was able to put my strong beliefs and views into practice. I continue to involve local schools in sustainability projects.
Loren Hiller, MSC Commercial Manager, UK & Ireland, said: "Fish and chip shops play a vital role in educating their customers about sustainable fish and chips and we're excited to be able to launch this list today showing exactly where seafood lovers can find their nearest sustainable fish supper.
"We're asking everyone to join the national sustainable seafood movement. We can only make a difference if we all play a part."
MSC UK is hosting a series of activities for Sustainable Seafood Week, including Sustainable Seafood Suppers with top British UK chefs showing how to make a variety of delicious sustainable seafood meals, for the whole family to enjoy.  Chefs Mitch Tonks, James Strawbridge and Elizabeth Haigh will host ocean-themed cooking classes and share their top culinary tips.
One third of fisheries around the world have been fished beyond sustainable limits, and a further 60% are fished to their maximum capacity.  Some 7 in 10 (72%) of seafood consumers agree that in order to save the ocean, we have to consume fish and seafood only from sustainable sources, according to research conducted for MSC by independent research consultancy, GlobeScan. Choosing the blue MSC ecolabel is an easy way for consumers to help safeguard seafood supplies for the future and keep the oceans teeming with life.    
About the Marine Stewardship Council
The MSC is an international non-profit organisation which sets globally recognised, science-based standards for sustainable fishing and seafood traceability.
The blue MSC label on a seafood product means that: it comes from a wild-catch fishery which has been independently certified to the MSC's science-based standard for environmentally sustainable fishing; it is fully traceable to a sustainable source. It can be found on more than 100 species of seafood in 100 countries.
Marine Stewardship Council | MSC in the UK | Marine Stewardship Council