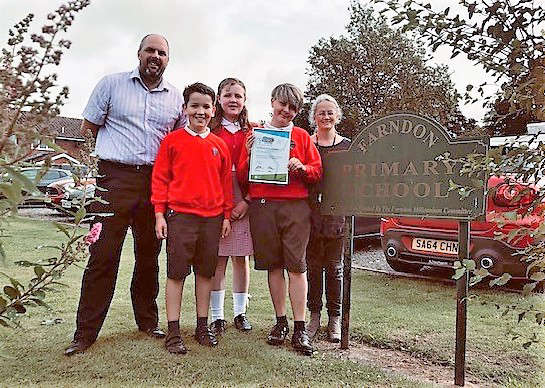 Farndon Primary School has become the first school in Cheshire West and Chester to earn the green Modeshift STARS schools' award for its commitment to sustainable and active travel.
The school's Junior Safety Officers (JSOs) also won the JSOs of Year award, so there has been a double celebration.
Awards under the national scheme are given to schools who are aiming to be safer and greener by implementing initiatives like creating a parent parking charter and involving the children in educating their parents to park away from the school and walk the last five to 10 minutes into school, making it safer for everyone.
The Council's Deputy Leader and Cabinet Member for Environment, Highways and Strategic Transport, Councillor Karen Shore said: "Congratulations to Farndon Primary pupils and teachers on their double success!
"Opting to walk, cycle, scoot, or by using a 'park and stride' approach can have a positive impact on the environment and people's health, whilst easing traffic congestion outside schools and colleges.
"In spite of the pandemic, the commitment and determination shown by the school to achieve their Modeshift STARS award is an inspiration."
JSO Buddy at Farndon Primary School, Kim Barnes said: "We're delighted to have this double celebration at Farndon Primary School. Hannah, Ethan and Charles are so proud of themselves, and I am really impressed with their efforts and the amount of work pupils have achieved over the year."
Benefits of the Modshift STARS scheme include:
- Healthier students – by encouraging active, healthy lifestyles for young people through more walking and cycling
- Safer students – identifying issues and improving the quality of the environment around the school
- Changing behaviour – Modeshift STARS offer ways to reduce car use and increase active and sustainable travel, making the school environment cleaner, safer and healthier
- Involving the whole school community – students, parents and teachers working together to make a difference.
Other schools are welcome to take part – to find out more about how sustainable travel can help your whole school community, contact the Council's Road Safety team:
roadsafety@cheshirewestandchester.gov.uk
or visit:

Pictured - Junior Safety Officers, Ethan, Hannah and Charles, with JSO buddy, Kim Barnes and headteacher, Andrew Walker.