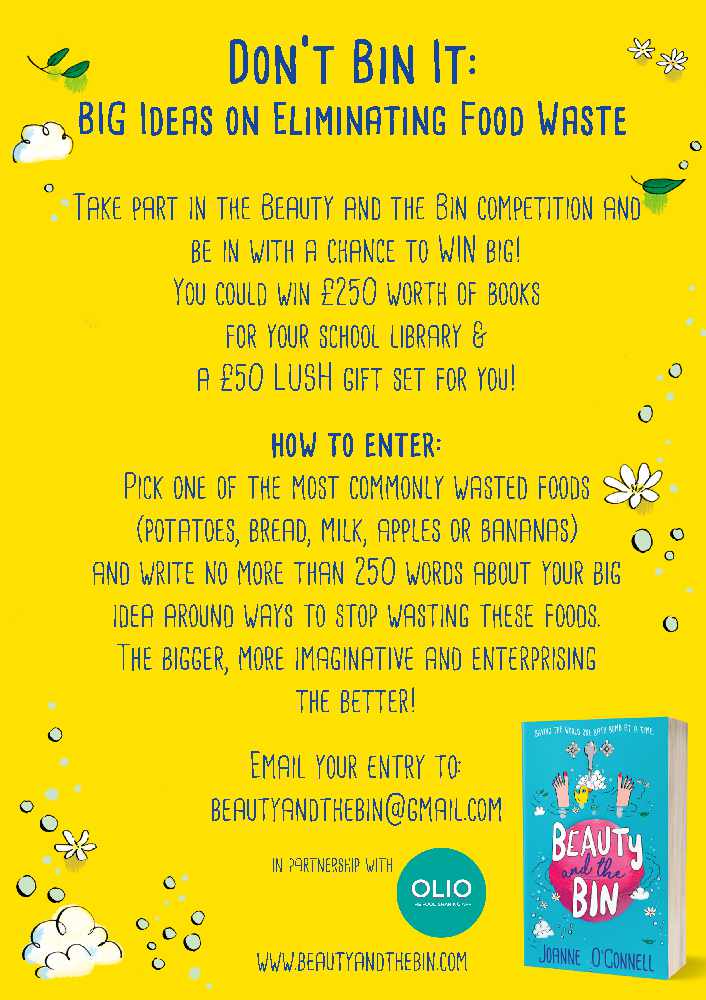 Cheshire-based author Joanne O'Connell launches national climate action competititon, in partnership with LUSH and Olio. Open to all children age 8-12.
Joanne O'Connell, author of Beauty and the Bin (Macmillan Childrens Books, 2021) has launched a major, nationwide competition to find young #foodwaste entrepreneurs, and help to inspire us all to stop wasting food, and save the planet – as well as the money in our pockets.
This brilliant new competition is backed by major brands (LUSH and food waste app Olio) and has a super-impressive judging panel, which will appeal to children, families and teachers. First prize: £250 worth of books for the winner's school and a £50 LUSH gift box.
The judges include: Rowena Bird (co-founder of LUSH); Saacha Celestial-One, (co-founder of Olio), Rachel De Thample (author and tutor at River Cottage); Melissa Sinclair (owner of Big Hair + Beauty, an earth conscious haircare brand for afro and curly hair); Tom Hunt (award-winning eco chef and author); Hilary Osborne (Consumer & Money editor at the Guardian); Dr Emily Grossman (children's science author, TV personality and co-founder of Extinction Rebellion Scientists); Dr Margaret Kadiri (Physical Geography Teaching Fellow at Kings College, in London); Denise Baden (Professor of Sustainable Business at the University of Southampton) and Joanne O'Connell (author of Beauty and the Bin).
Food waste:
According to the Love Food Hate Waste campaign (which is part of WRAP), UK households waste 6.5 million tonnes of food every year, of which a massive 4.5 million of is edible – that's enough to fill 38 million wheelie bins.
Joanne O'Connell, author of Beauty and the Bin, says: 'In Beauty and the Bin, a girl called Laurie Larksie (the main character) transforms food waste into gorgeous plant-powered beauty products. We're looking for fantastic ideas like this about how we can keep food out of the bin!
'We do have the power to stop wasting so much food. That's why I'm thrilled to be launching this competition, along with the incredible expert judges and supported by ethical, planet-friendly brands LUSH and Olio.
'So please do send in your ideas, the bigger and more imaginative the better! And we can't wait to see the entries and award the prizes – there's a brilliant LUSH gift box and an amazing £250 worth of Macmillan Children's Books for a school library up for grabs!'
How to enter: Pick one of the most commonly wasted foods: potatoes, bread, milk, apples or bananas and write no more than 250 words around your big idea around how not to waste these foods. Email your entries (please see the terms and conditions on: www.beautyandthebin.com) to beautyandthebin@gmail.com by midnight on 8 June 2021.
For more information contact: Joanne O'Connell on beautyandthebin@gmail.com or on Twitter @byesupermarkets.
Beauty and the Bin by Joanne O'Connell
Macmillan Children's Books | £6.99 | Paperback I ISBN 9781529032574
A laugh-out-loud middle grade debut about friends, family, and the challenges of being a young eco-warrior.
12-year-old Laurie loves her family, and she wants to join them in making the world a better place. But right now, she doesn't want to fish food out of bins, she wants to wear a pair of ordinary tights and have the money to order a hot chocolate at the café after school. When a competition comes to Silverdale High looking for the next generation of entrepreneurs, Laurie finds herself unexpectedly in the spotlight. The homemade beauty remedies and potions that she has been posting online are stealing the show, and the most popular girl in the school wants to team up for the win. It seems like Laurie can achieve normality – and even popularity – at last.
But will her eco-warrior family accept that she no longer wants to be part of their gang, and can she find success without losing sight of her true self?
Signed copies are available in Waterstones in Chester!
Joanne O'Connell is a journalist whose inspiration sprang from a year-long column she wrote for the Guardian called Goodbye Supermarkets. She lives in Cheshire with her husband and two daughters, and runs consumer, law-related websites (including: settlementagreement.co.uk). Joanne tweets at @byesupermarkets.