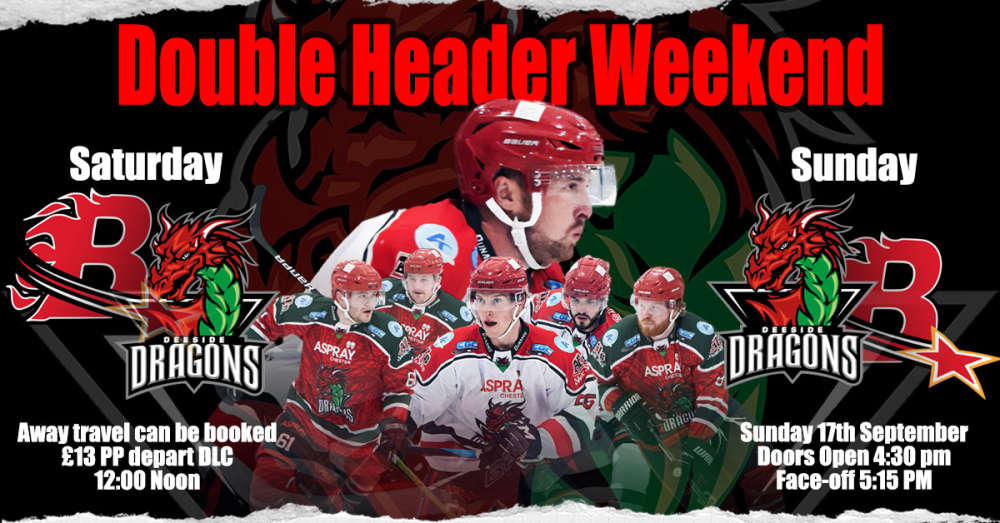 Aspray Chester Deeside Dragons are gearing up for an exhilarating double-header weekend, featuring a face-off against the Billingham Stars.
Starting with a highly-anticipated away game on Saturday, 16th, the Dragons then welcome the Stars to their home ice at the Den on Sunday, 17th. This is not just a game, it's an experience—a showdown that promises to be laden with drama, action, and unforgettable moments.
The Billingham Stars: A Formidable Foe
While the Deeside Dragons are set to open their season, the Billingham Stars kicked off their campaign last weekend with a mixed bag of results. They were subdued by the Hull Jets in a 4-2 away defeat but bounced back with a jaw-dropping 7-0 victory over the Sheffield Scimitars. The Stars are undoubtedly a team of contrasts, and this gives the Dragons a perfect canvas to paint their victory.
Good News: Don't miss out on the away game action. Secure your spot on the return coach for just £13 per person! Book Your Seat NOW.
https://dragonsihc.com/away-travel-to-billingham-stars
The Dragons' Den: Where Magic Happens, Sponsored by Aspray Chester
We're thrilled to announce that Sunday's home game at the Den is kindly being sponsored by Aspray Chester. Their generous support adds to the electric atmosphere we're expecting. It's more than a game; it's a festival of hockey, a showcase of skill, and a battle of wills. We'll need all the roaring support we can get, so let's fill those stands!
Secure Your Spot:
Online tickets for the home game are available until 11:30 PM on Saturday, 16th. Grab your tickets here https://dragonsihc.com/aspray-chester-deeside-dragons-v-billingham-stars?fbclid=IwAR0ResgEpUEWEOk79VVukDrdHHZ8kBjTCwt7vWHUnZRKkmdPcbQoM-M6-bQ
Missed the deadline? You can still catch the heatwave by paying at the gate.
Why This Weekend is a Must-Watch:
Double-Header Drama: Two games, one weekend—double the adrenaline, double the roars!
A Shot at Redemption: With Billingham's mixed start, can the Dragons capitalise and claim the upper hand?
Home Ice Advantage: The home game at the Den promises to be an arena of deafening cheers and undeniable Dragon spirit.
Prepare yourselves for a weekend like no other. Mark your calendars, wear your team colours, and bring the noise.
We are the Deeside Dragons, and it's time to unleash the roar!
#BeMoreDragon