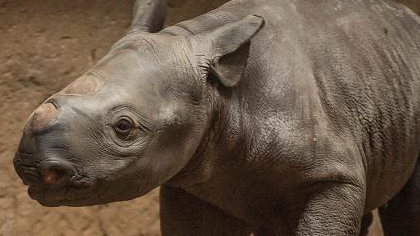 Visitors to Chester Zoo were left stunned when a rhino gave birth in front of them.
While most rhino births typically happen at night or in the early hours of the morning, Malindi, a 12-year-old critically endangered eastern black rhino, shocked onlookers when she went into labour at around 12:30 in the middle of a busy summer's day.

A healthy male calf was delivered safely less than half an hour later in what zoo conservationists have described as a "very rare and special event" to witness.

The little one was up on its feet within 15 minutes and was seen running around soon after, before returning to suckle from mum.

Tim Rowlands, Curator of Mammals at the zoo, said:

"Visitors to the zoo were treated to something incredibly special when Eastern black rhino, Malindi, went in to labour in front of them. With just 650 Eastern black rhino left in the wild, seeing the birth of a new calf and it's very first steps is a very rare and special event indeed.
The Staggeringly low number of rhino left in the wild is a result of the illegal wildlife trade, where Asian medicine markets are seeing increased demand for rhino horn.