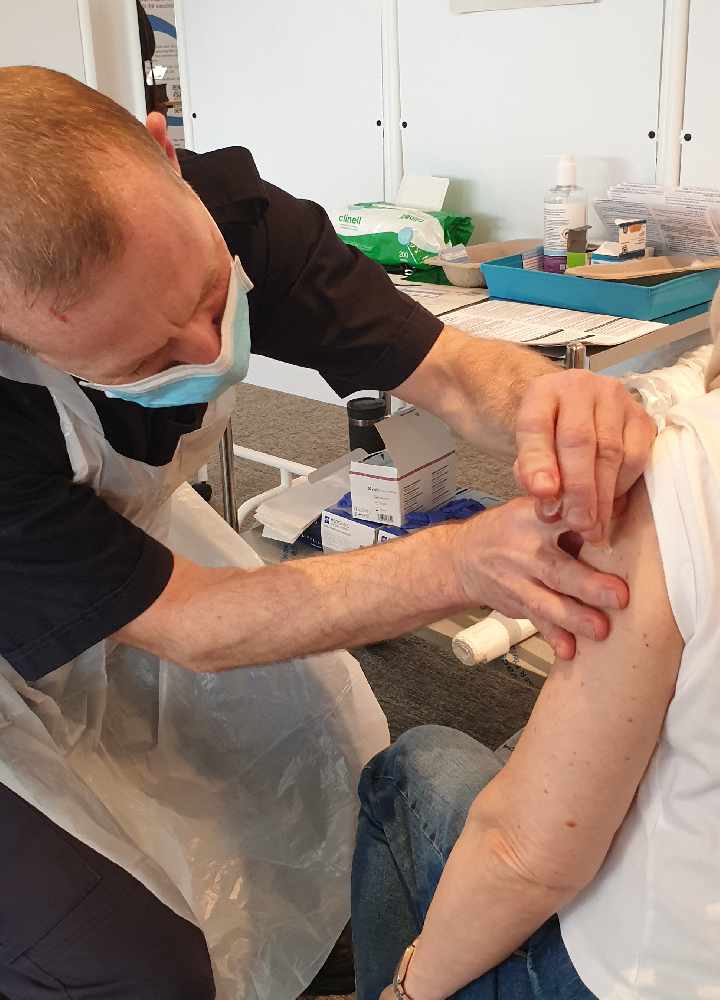 The county's newest vaccination sites have received a shot in the arm from Cheshire Fire and Rescue Service with firefighters and support staff joining NHS colleagues to administer thousands of Covid-19 vaccinations.
Two large sites at Chester Racecourse and Alderley Park opened last week, massively boosting the fight in Cheshire to get our communities protected against the Covid-19 virus as soon as possible.
And in a bid to maximise capacity at the sites, Cheshire Fire and Rescue Service has provided more than 100 staff who have been trained by NHS colleagues to administer the vaccination, as well as assist with other administrative and support duties.
The fire service personnel are working vaccination shifts around their existing workloads where possible and, in some cases, are volunteering their own time outside of working hours.
Assistant Chief Fire Officer Alex Waller said: "We're all in this together, and as a Service we are keen to make sure that everyone can get a vaccine as soon as is practically possible – that's why we offered our help.
"Our staff have been fully trained and have done hundreds of vaccinations – so even though it might seem a little odd to receive your vaccine from someone in fire service uniform, there's really nothing to be concerned about.
"I'm very proud of everybody who is playing their part in protecting our communities against this deadly virus – not just our firefighters and staff, but all the health workers and other volunteers too. It's been a fantastic show of team work and community spirit."
Clare Watson, Accountable Officer of Cheshire Clinical Commissioning Group said, "I would like to express my sincere thanks to the Fire & Rescue Service who have efficiently and effectively joined forces with the army of volunteers to help protect our most vulnerable residents from COVID-19.
"The new vaccination centres at Chester Racecourse and Alderley Park Conference Centre give excellent access to vaccines for Cheshire Residents."
This is the latest example of Cheshire Fire and Rescue Service finding new ways to support its communities during the coronavirus pandemic.
Recent figures showed that staff had made, among other things:
8,180 deliveries of prescription medicines to residents
5,064 food deliveries
1,371 visits to support vulnerable residents who were 'shielding'
1,316 pre-op covid-19 swabs or tests
And as recently reported, the Service has also expanded its Safe and Well visits to incorporate a courtesy service that involves home visits to 'hard to reach' residents to see whether they've been invited to receive the vaccine, and whether they require any assistance in booking an appointment or getting to a vaccination site. All of this work is focused on helping to keep people safe.
If you are aged 65 and over you are eligible for a COVID vaccination. In order to avoid a delay please book your vaccination now via www.nhs.uk/covidvaccination or by calling 119.
Pictured - A firefighter administers the Covid vaccine at Chester's vaccination site.